Entertainment Magazine Music Guide
---
New and Upcoming Music Features
Multi-instrumentalist David Franklin hears music and rhythm patterns everywhere in his day-to-day life whether it is machines, telephones, a vacuum, vibrating objects, a door closing or a baby crying; he uses these "found sounds" as inspiration or even directly in his compositions.
"I try not to limit myself to just one way of looking at things or doing something," explains musician Nathan Speir. That philosophy has led to an eclectic and varied musical career with his recordings having been described as ambient chamber music, acoustic-ambient, piano-oriented new age, and avant-garde. His ninth album, Part of a Kindly Plan, continues his fascinating experimentation.
The extremely-entertaining acoustic-guitar duo Terra Guitarra has created a new body of music, the album Of Sea & Stars, that makes a correlation between the exploration of earth's oceans and outer-space because both represent places that have to be journeyed across in order to settle new lands and to gain additional insights into human consciousness, spiritual awakening and scientific knowledge.
Regarding the gentle, melodic, instrumental music on the debut album Sanctuary for the Soul by the Janice Lacy Project, Lacy says, "I want my music to serve as a sanctuary, a refuge, a place of safety, peace, healing and joy, where listeners can go when they need to escape from the pressures and stress of the world around them."
Acoustic pianist Nick DeCesare believes in the power of gentle solo piano music to make a difference in people's lives by helping the listener relax, relieve stress, calm down emotionally, become introspective and slow down to enjoy life more.
Singer, songwriter, and mega-instrumentalist Matt Venuti (pronounced va-new-tee) has a musical style that's been labeled "Ambient Fusion" and "Acoustic Alternative", but his audiences are often at a loss for words to categorize the immersive experience that Matt's concerts are known for.
Peter Kater, a leading innovator of contemporary instrumental music for over three decades, has created a new album, Resonance on New Earth Records, that captures the most important aspects of the best new age music -- soothing, relaxing, healing, melodic, illuminating and consciousness-expanding.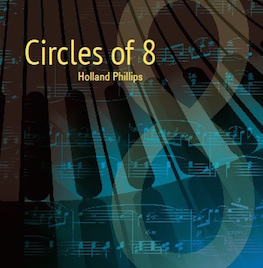 Synthesizer master and multi-instrumentalist Holland Phillips has released his fifth album, Circles of 8, based on the resonances from the circles of life and the vibrations that are the building blocks of creation.
Rowing in Eden, the latest album by new age and modern-classical singer-songwriter Rebekah Eden, is a magical journey through kingdoms of enchantment, a mystical adventure full of tales for children of all ages, a portal to a musical fantasy realm, and a sacred search for heaven on earth.
Many of guitarist Ciro Hurtado's earliest memories are of the jungle, the Amazonian rainforest in his homeland of Peru, the world's most bio-diverse place, an isolated and barely-populated wilderness with many tall broad-leaved trees and liana climbing vines forming a high canopy. Hurtado, who moved to California when he was 20, named his new album Selva (Spanish for jungle) and continues to explore the sounds of Peruvian folk music mixed with music from other countries that he first heard on short-wave radio as a child.
The musical album Beyond Karma is a rare mix of sacred sounds from different cultures. The Gyuto Monks of Tibet (the group that ushered in the West's appreciation and fascination with traditional chant through a series of best-selling albums starting in the late-1960s) are joined by Australia's finest sacred music duo, Kim Cunio and Heather Lee, on this recording of traditional and newly-composed music from Judaism, Christianity and Islam.
The Numero Group presents the first collection of music by new age/ambient/avant-garde music pioneer Joanna Brouk. During the '70s and '80s Ms. Brouk blazed her own trail well outside of the musical establishment to create uncompromising electronic and acoustic work of sleek beauty and primal power.
The new recording Cosmic Connections Live, which was recorded during the 2014-2015 World Tour by the popular world-fusion group Deva Premal & Miten with Manose, offers an opportunity to experience the transcendent energy of their live concerts.
The album cover of the new Timothy Wenzel instrumental recording, Distant Horseman, portrays a human form sitting on a horse on a far-away alien planet. Wenzel uses his music as well as visuals to explore grand themes about life and living as well as the physical aspects of the universe.
World-celebrated South African musical virtuoso Guy Buttery returns with a brand new approach and unique musical vision on his latest acoustic-guitar-based album, simply titled Guy Buttery, which seamlessly merges elements of melodic-instrumental, world-fusion, African folk and avant-garde with ambient and groove-driven psychedelia.
Musician Tron Syversen has created a stunning series of albums that have led him to the forefront of the new age music field. His music serves as a sanctuary for relaxation, rejuvenation and well-being. His sound is characterized by his piano and keyboards backed by wordless vocalizing and occasionally other top classically-trained musicians on acoustic stringed instruments, woodwinds or horns. This acclaimed series continues with his Piano Meditations recording.
David Franklin believes music is one of humanity's most powerful tools for healing. Previously known for several albums as a singer-songwriter, the eighth recording by this guitarist and pianist is the instrumental Playing With Shadows which he hopes will help listeners connect to their inner feelings and ultimately, create more of a sense of connection in their lives.
Electronic-keyboardist Russell Suereth promotes universal spirituality with his heartfelt original instrumental music that blends new age sounds and world-fusion rhythms as heard on his third album, Spiritual Haven.
Composer Elise Lebec says her new album, Heart Song, is about "seeing the dignity and honor in life. I composed the music from my heart and tried to capture the concept that life is a gift and a journey, both internal and external, full of adventures -- good, bad, beautiful, sad, uplifting and often incredibly heart-touching."
Deuter is the seminal new age musician. Also a Reiki practi­tioner, Deuter has followed up his popular Reiki Hands of Light album with a new recording, Reiki Hands of Love. The album is inspired by the loving and healing aspects of touch, and created to be both an enjoyable listening experience and the perfect backdrop for relaxation, massage, healing or meditation.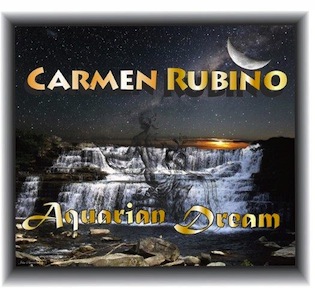 "Our biggest quest in life is identifying a personal dream and then fulfilling that dream, making it a reality and living it," says keyboardist Carmen Rubino, who explores this universal journey on his debut album, Aquarian Dream.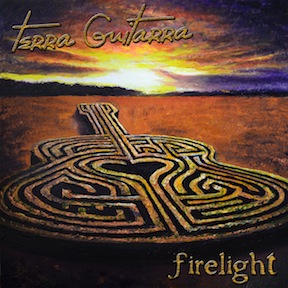 For thousands and thousands of years nothing was as crucial as being able to see at night, cook the food, keep safe from animals of prey, stay warm, and gather around a fire to share stories. So the acoustic guitar duo Terra Guitarra named their latest album Firelight as a tribute to the historical significance of this development by mankind.
Johannes Linstead, one of the most popular Latin-guitar performers in the world, created his latest recording, Midnight Rhumba, to serve as an exotic musical escape from day-to-day-life.
Pianist Dan Chadburn, who emphatically states, "I love winter," has created an album, Whispers The Falling Snow, exemplifying and glorifying that season.
Best-selling Norwegian new age music keyboardist Tron Syversen has teamed with wordless vocalist Runar Halonen to create the powerful and therapeutic recording, Voices From Heaven, a masterpiece of ambient and improvisational sound healing.
Nadaka & Gopika, on the new album Surya Chants of Light, create their own unique world-fusion music by mixing traditionally-sung vedic mantras with the sounds of a specially-designed guitar from India.
Although Mark Barrott is well-known in the worldwide underground eclectic dance scene as the owner-entrepreneur and key musical force behind the highly-regarded International Feel label, he also is emerging as a major chillout recording artist and one of the world's top proponents of the "balearic music" sound as evidenced by his new album, Sketches From an Island.
Paul Higgs, renowned as one of the UK's leading trumpet players and composers, is especially known for his versatility which is fully displayed on his new recording, Pavane.
Energy is everywhere in the universe, from a tiny grain of sand on Earth containing sub-atomic particles moving around inside it, to the largest fiery star a billion light-years away. Energy causes movement, and movement causes vibrations, waves, oscillations and frequencies. In this way, energy -- even that created in deep-space and traveling for millenniums to reach our planet -- is absorbed by human beings. A few of those beings tune in to what some call the "Cosmo Frequency."
When composer and keyboardist Uwe Gronau creates a new recording, it's as if he is taking an adventurous flight. His musical journeys sometimes have the feeling of blasting off in a spaceship, or soaring above the clouds in an airplane, or hang-gliding alone a few hundred feet above the earth, or free-falling like a bungie-jumper. And so he titled his latest musical excursion Flight 14.
Terra Guitarra, as their name implies, is a musical group that focuses on two things -- guitar explorations and planet earth. As exemplified on their fourth album, Dragonfly, this instrumental duo features two acoustic guitarists playing original compositions in the popular nuevo-flamenco style.
Anima's healing music is an offering of peace and harmony to the Earth, and with their latest album, Light of Aluna, they celebrate the cosmic principle of "The Great Mother" who gives life to all living things.
When synthesist Meg Bowles creates her ambient musical soundscapes, she does it as carefully as any classical composer. On her new album, The Shimmering Land, the music has different sections, purposeful movement, counterpoint, shifting textures and specific emotionalism.
Keyboardist Stephen Savage has taught classical music for more than three decades and has served on the faculties of both the prestigious Berklee College of Music and the New England Conservatory of Music, but when it came time to compose and record original compositions for his first album, Future Memory, he went in a different direction and created synthesizer-based space music. Continue reading about Stephen Savage and Future Memory.
Imagine a summertime
late-night journey through Paris past the cafes and bars and nightclubs, alongside the statues and historical buildings and parks, through the old-town districts with the cobblestone streets, seeing a few lovers huddled together, across the Seine on an ancient bridge, the shops and markets closed, a few streetlights fighting the shadows and making puddles glisten from a recent rain, culminating in a climb to a rooftop overlooking the city to await a new day. Uber-creative German musician Uwe Gronau used a dreamlike trip through this alluring city as the inspiration for his latest album, Visions.
---
Groupon features a daily deal on the best stuff to do, see, eat, and buy in a variety of cities across the United States and has been recently featured on the Today Show, Good Morning America, and named the #1 Hottest Website for 2010 by Fox Business News! A deal a day great things to do, eat, see, & buy in your area. Shop Groupon.com today!
---
"A Coalescence of Dreams is not only the title and theme of this album, but it also represents the way I live my life and the way I see life unfolding," states Wenzel. "It's about becoming aware of our nighttime dreams and using that knowledge. It's about day-dreaming, brain-storming, setting goals and making your dreams come true. It's about realizing that many aspects of our lives intersect, and also cross-connect with other lives." Read mroe about Timothy Wenzel.
Paz del Castillo Exhibits Top-Notch Composing On New Solo Piano CD
Paz del Castillo, who has become one of the most important solo pianists in Spain during the past decade, titled her latest album Eleven Drops for two reasons -- each of the eleven original compositions represents a small drop or part of her personality, and the water imagery symbolizes her love of nature.
CIRO HURTADO UNIQUE LATIN ACOUSTIC GUITAR STYLE
Ciro Hurtado plays acoustic guitar with a unique Latin style that combines what he calls "Andean Blues" (from his Peruvian birthplace) with elements of American jazz and rock'n'roll plus a variety of other international influences.
Laura McMillan lingers longer in new CD
Laura McMillan titled her second album of original solo piano music Linger Longer because she treasures the positive moments of life and wants to hold onto them as long as possible.
Mark Bruland's family and friends inspired BEEing Human
Mark Bruland's life is all about balance -- between making music and farming, between family and work, between caring about people and taking care of animals, between working his land and creating in his studio.
World fusion White and Paulino
The musical duo Tim White and Joe Paulino crafted the world-fusion instrumental music on their album inhale slowly not only as entertainment, but also specifically to facilitate relaxation, meditation and healing.
Acoustic guitarist Rich Osborn takes solo picking to a new direction
Sometimes an artist comes along who believes so strongly in the importance and vitality of an older artform, that he single-handedly attempts to revive and preserve it for a new generation.
On his solo recording Giving Voice - Guitar Explorations, Rich Osborn fingerpicks an acoustic, steel-string, nearly-hundred-year-old guitar on original compositions played in the "free raga style." Continue reading about Rich Osborn.
GERMAN UWE GRONAU MAKING SOME OF THE MOST INNOVATIVE NEW AGE MUSIC AROUND
Uwe Gronau's latest recording, Time Rider, invites the listener to explore their past and future life by surfing the waves of time with his music providing both the impetus and the soundtrack for the adventure.
Kyle Peterson pens new Christmas music with old standards
Musician Kyle Pederson has a special gift to give this holiday season -- a new solo piano album of classic Christmas hymns arranged in ways never heard before. Imagine an album of beautiful, mesmerizing piano soloing where familiar melodies drift through as if on a gentle breeze, reviving memories, but at the same time part of a new listening experience. Read more about Kyle Peterson's new CD.
MIKE LONGO - TO MY SURPRISE (featuring The Mike Longo Trio + 2 Special Guests)
With every new recording, jazz pianist Mike Longo digs a little deeper into the chemistry of the music, pushing himself and his band to more fully explore the intricacies of the rhythmic nature of jazz, attempting to go to new places where surprising results await. Longo named his new album To My Surprise in honor of those special musical moments that unfold. Continue reading about the new Mike Longo CD.
Music that reaches across borders with Emine SARI
Emine SARI was born in a small city in Turkey and studied piano and foreign languages in order to fulfill her dream of becoming an international artist.
Emine SARI entered the Japanese version of "American Idol" and become the only foreign singer who made it to the finals. Now, she plays the piano, the guitar, sings in six different languages and is the European cultural ambassador! Watch a music video and read more about Emine SARI.
Meet FreeSol and Timberlake
FreeSol and Justin Timberlake take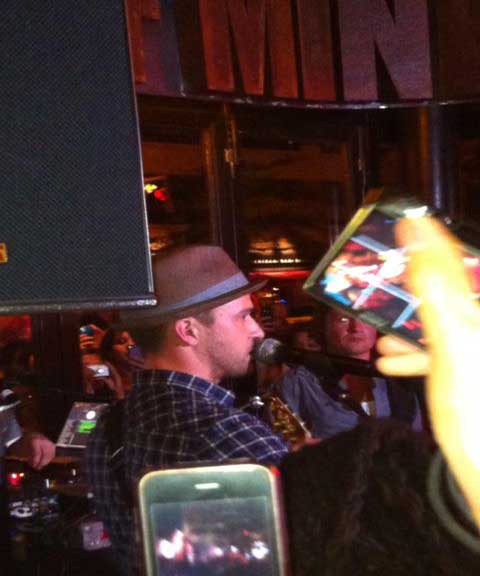 over NYC….will it ever be the same…??
Even though FreeSol is no stranger to music, y'all might not have heard of them yet, but that is all about to change! These guys are amazingly talented and will have you shaking your booty!
AOMUSIC wants global music unity
The musical group AOMUSIC was founded on the belief that "nature only knows humanity as one being – that we are facets of one jewel." On their third album, ...and Love Rages On!, AOMUSIC continues to create astounding, transformative, international, world-fusion sounds truly reflecting our global community. Continue reading about AOMUSIC new CD release.Annette Cantor creates album blessing Mother Earth
Annette Cantor takes two age-old music traditions from Europe (Gregorian chants and cello performance) and mixes them with ancient Native American musical customs (wooden flute and indigenous percussion) forming a unique sound on her recording Songs To The Earth, an album dedicated to our planet and the divine sacredness of nature.
Interview with Ricky Skaggs has a new CD called "Mosaic" that's gospel, spiritual, and sacred CD
Because of a diverse musical background, Rick Cutler's sound is considerably different than most acoustic pianists who play solo. On his second recording, First Melancholy Then the Night Stretch
, you hear not only the elements of neo-classical and new age you would expect, but also his background performing both improvisational jazz (he studied with Chick Corea) and classic pop standards (he toured for 18 years with singer and tap-dance legend Gregory Hines and for more than a decade with Liza Minnelli).
---
© 2015 EntertainmentMagazine.net. Entertainment Magazine network. All rights reserved.