Pianist Dan Chadburn, who emphatically states, "I love winter," has created an album, Whispers The Falling Snow, exemplifying and glorifying that season. "I enjoy everything about the winter months -- the snow, the crisp air, the holidays, carol singing with friends and family, reading or quiet contemplation while sitting by a fire, and the joys of sledding and ice skating when you are young. But since winter is when we spend more time inside, it also is an excellent opportunity for me to sit at my piano and create."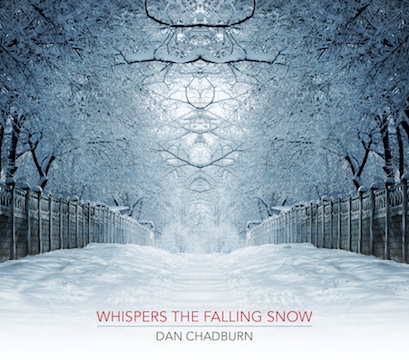 Whispers The Falling Snow is a collection of ten solo piano instrumentals comprised of new material composed by Chadburn ("Whispers the Falling Snow," "Returning Home" and "Winter Waltz"), songs associated with the winter solstice season for many generations ("In The Bleak Midwinter," "Bring a Torch, Jeanette Isabella") and longtime favorite carols penned with a Christmas theme ("Silent Night," "What Child Is This," "Away in a Manger" and others).
This is Dan Chadburn's fourth album. Solo Piano, Reflections, Nocturnes and Whispers the Falling Snow are available at his website (DanChadburn.com) and as CDs and digital downloads at a variety of online sales sites including CDbaby, Amazon, iTunes, eMusic and many others. Nocturnes went Top 10 on the international Top 100 Zone Music Reporter airplay chart and stayed on the chart for nine months.
Chadburn is a classically-trained pianist who found he enjoyed improvisational creations as much as playing traditional repertoire. Now he uses improvisation to compose most of his material on piano (and occasionally on electronic keyboards). For the albums Nocturnes and Reflections (which also feature additional instruments), Chadburn created the arrangements and scored the parts played by the other musicians.
"The traditional tunes on Whispers the Falling Snow I have played ever since I was young and learning piano so I am very familiar with them," explains Chadburn. "So I wanted to first state the melody as a celebration of the music that we have all come to know and love over the years. But then I devise my own arrangement by improvising off those themes to come up with something no one has ever heard before in hopes of making the music become fresh and alive for the contemporary audience. For the original material, I tried to capture the spirit of the winter season by remembering the warmth and love of returning to your parent's home for the holidays, or the way ice-skating resembles dancing, and how a snowfall is a special experience visually, emotionally and physically as those tiny delicate flakes float to earth and join together to make a thick blanket covering and insulating the earth. The album title also serves as sort of a metaphor for the music because, just as each snowflake is unique and different, my arrangements of songs change each time due to my improvisation so no two versions are ever exactly alike."
Chadburn explains, "For 'Whispers the Falling Snow' I actually closed my eyes while I was playing and simply focused on visualizing those snowflakes falling and what it feels like when you watch them. In is interesting that 'Away in a Manger' has acquired two different traditional melodies over the years, so I juxtaposed the two themes together buffered by my improvisations. I also wanted to capture the feeling of this piece as a lullaby that can be played for or sung to children at bedtime. I chose 'O Come, O Come, Emmanuel' to start the CD because it is a great way to herald the upcoming season. 'Angels We Have Heard on High' is a triumphant, celebratory song with a great melody, easy to pour emotion into."
A native of Oregon, Dan began taking piano lessons when he was nine years old and continued through high school where he also served as the accompanist for the choral groups and stage plays. Several times in junior high and high school, he was selected as an Oregon Music Teacher's Association (O.M.T.A.) syllabus winner, which resulted in his performing in recitals on the state level. He went on to earn his Bachelor of Music degree in piano performance at Pacific Lutheran University, and began playing electronic synthesized keyboards. Chadburn moved to Los Angeles and enrolled in the Film Scoring Program at UCLA. Soon he was scoring for film and television and working as a session musician.
Chadburn wanted to expand his musical vision so he moved to London and studied ElectroAcoustic Composition under two pioneers in the field, Denis Smalley and Simon Emmerson. "I was very grateful for the opportunity to learn from these two masters in the genre and grow as a composer. This was a non-traditional form of composition that some would say was on the outskirts of avant-garde. In this genre, traditional instruments and melody are frequently absent. My primary focus was to record odd sounds, transform them with audio processing, and insert them into symphonic works. For one piece, 'Dreams,' I recorded and altered sounds made by various kitchen items such as jelly beans dropped into a bowl, spatulas hitting cake pans, water shaken in a jar, portable oven timers, etc., ultimately creating a surreal collage of sound to represent what one might hear and see after falling asleep." Chadburn earned his Masters of Music degree in ElectroAcoustic Composition from London's City University.
Chadburn's performance venues have included Carnegie Hall in New York City, Symphony Hall in Boston and The Kennedy Center in Washington, DC. Additionally, his choral compositions have been recorded and performed in the Concert Hall of The Kennedy Center.
After moving to the Washington, DC, area, Chadburn began writing and recording hundreds of improvisational piano themes which led to his first album, Solo Piano. The Washington Area Music Association nominated the album for "Best New Age Recording" in the WAMA Awards, and Chadburn was nominated for "Best New Age Instrumentalist." His second recording, Reflections, included other musicians on viola, French horn, flute and English horn, plus on one track the singing of Tom Nichols, Chadburn's longtime musical partner and producer. Chadburn's Nocturnes, again with additional instrumentation, earned a WAMA nomination for "Best Classical Recording" while Chadburn was nominated as "Best Classical Instrumentalist."
Chadburn has been featured (alongside other pianists such as Suzanne Ciani, Spencer Brewer and Robin Spielberg) on several compilation recordings produced for charitable causes, including The Heart Aid Project which benefited the victims of the 9/11 tragedy and their families. Among Chadburn's other special projects was a single, "Promise of Hope," he wrote and recorded for a philanthropic program run by Choice Hotels International and benefiting The Boys & Girls Clubs of Greater Washington and Metropolitan Baltimore. With Nocturnes Chadburn continued to donate to worthwhile causes. Proceeds from "Peter's Theme" on that album are donated to The Peter Fox Project which in turn benefits the Sitar Arts Center in Washington, an after-school youth organization for the arts. In addition, the tune "Anne's Lullaby" benefits The National Family Resiliency Center "to preserve a sense of family and foster healthy relationships." In 2014 Chadburn performed a benefit concert to raise funds for the Florence Area Humane Society (a "no kill" shelter) in Oregon.
Over the years Chadburn has been inspired by the music of George Winston, John Williams, Michael Buble, Aaron Copland, Leonard Bernstein, Sergei Rachmaninoff, Claude Debussy, Frederic Chopin, Sergei Prokofiev, Itzhak Perlman, Vladimir Ashkenazy and Barbra Streisand.
"I do not want people to think of Whispers the Falling Snow as just a Christmas CD even though it contains some melodies associated with that holiday," states Chadburn. "I much more wanted the music to serve as a reflection and celebration of wintertime and all the imagery and emotions that go with that season. Of course I appreciate all the traditions and religious occasions going back to the earliest times of honoring the Winter Solstice. No matter how people choose to enjoy their time together during the winter, I applaud the sentiments. I wanted to try to capture some of those feelings with my music."
---
Discount restaurant coupon codes
Dining coupons 60% off or more! Restaurant.com has a national directory of more than 18,000 restaurants. Search by state, city, neighborhood, zip code and cuisine type to find the perfect restaurant and gift certificates for savings in hundreds of cities across the US. Every week, Restaurant.com has a special dining promotional code for further discounts on each gift certificates. Save on Breakfast, Lunch and Dinner at Restaurant.com
Groupon coupons online
Groupon features a daily deal on the best stuff to do, see, eat, and buy in a variety of cities across the United States and has been recently featured on the Today Show, Good Morning America, and named the #1 Hottest Website for 2010 by Fox Business News! A deal a day great things to do, eat, see, & buy in your area. Shop Groupon.com today!