Kyle Peterson pens new Christmas music with old standards
12.25: NEW MUSICAL ARRANGEMENTS FOR THE CHRISTMAS HOLIDAY SEASON
Musician Kyle Pederson has a special gift to give this holiday season -- a new solo piano album of classic Christmas hymns arranged in ways never heard before.
Pederson has written completely new arrangements of some traditional material so that often the well-known melody is only a small part of the freshly-constructed tune. As the melody drifts through, it reminds us of past holidays, but at the same time, the new music surrounding it gives us a different musical perspective.
Imagine an album of beautiful, mesmerizing piano soloing where familiar melodies drift through as if on a gentle breeze, reviving memories, but at the same time part of a new listening experience.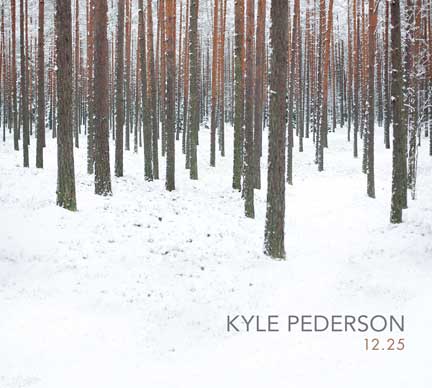 That is the essence of the recording titled 12.25.
"With these Christmas tunes, I knew I wanted to do something unique," says Pederson, "I felt the only way to make this music interesting and freshly-exciting would be to place the melodies in completely-new settings. I wanted listeners to hear the music differently than they ever have previously."
Pederson is not only known for his inventive arrangements and self-penned sections within traditional tunes, but also for his strong chord progressions and deeply rhythmical piano playing. 12.25 was recorded on a Yamaha acoustic grand piano in a church in Burnsville, Minnesota, to provide extra emotion in approaching this classic Christmas material.
Pederson has a long background of church performances, and his previous album, Renewal, contained reworkings of traditional hymns (performed as instrumentals with an ensemble).
Pederson's music is available in CD form at CDbaby.com and as digital downloads at a wide variety of online sales sites including iTunes, Rhapsody, eMusic and many others. For more information, go to kylepederson.com.
The material on 12.25 includes church melodies that are Christmas standards (such as "O Come, O Come Emmanuel," "Silent Night" and ""O Come All Ye Faithful") as well as several tunes not quite as well known ("In The Bleak Midwinter," "Gabriel's Message" and "Lo How a Rose").
"People are used to hearing these classic melodies a certain way," Pederson explains, "so I know some will think these arrangements are a bit avant-garde. But I believe it can be very refreshing to hear familiar melodies in a new context."
For example, "O Come, O Come Emmanuel" has the melody stated at the beginning and end, but the middle section is a fast-paced cascading interlude. "Infant Holy, Infant Lowly" utilizes special transitions between the verses.
"God Rest Ye Merry Gentlemen" has each verse grow in volume and sophistication. Straying even further from the original melodies are "Silent Night" ("it is fused with an entirely different chord progression"), "O Come All Ye Faithful" ("the melody is woven with another simple motif, but the piece builds to a grand finish with interrelated elements") and "O Holy Night" ("this is all about chord movement and building chords from two notes to seven notes while sustaining the tones with the pedal, and as the rhythms and chords develop, the melody is layered in").
The centerpiece of the recording is the more-than-six-minute "Gabriel's Message" which Pederson says "is a fairly-involved piece that required several takes to both execute the tricky passages correctly and capture the element of drama it needed."
Pederson carefully works out his unusual arrangements.
"Some of them evolve out of improvisational sessions and others are inspired by a chord progression I hear in some totally different type of music like pop or rock or classical. I start with little elements I like and build from there. With my solo piano music I want the music to not only take the listener someplace emotionally, but also involve them by having them hear something completely different than they might expect."
When Pederson thinks about the Christmas holidays, he remembers building snow forts as a child and attending the traditional candlelight service at church.
"But my most vivid Christmas memories -- whether at school, in church or with my family -- always include Christmas music, both listening and performing. Music is part of the magic of the season, and so many of the carols center around the sacred Christmas story which is an amazing combination of expectation, hope, inspiration and blessings."
Pederson was born and raised in Sioux Falls, South Dakota, where he "started banging away on the piano when I was five." He began taking piano lessons in the second grade and continued through college.
A defining moment came when he went to see his first concert, pianist Peter Nero, and the performance and crowd reaction were inspirational. Kyle started accompanying vocal groups (such as choirs and glee clubs) in junior high and continued through college. Although he also sang in school and church choirs, he was most comfortable playing the piano. "At the piano everything just seemed more natural."
During his school years he was initially attracted to the popular radio music of the day -- Billy Joel, Steely Dan, The Police -- but he also enjoyed certain new age musicians such as George Winston and Mannheim Steamroller ("I liked the liberties they took with Christmas music").
Pederson attended Augustana College where he got his Bachelor's Degree in philosophy and political science as well as a secondary education teaching credential.
At college he sang in and accompanied choirs, played piano in variety shows, was part of an a cappella men's group, and performed at competitions and recitals. He also became a professional musician earning money at a local lounge where he played show tunes, jazz standards, pop hits from Elton John to Carole King, and other piano favorites.
Pederson moved to Minnesota (the Minneapolis-St. Paul area) and became a school teacher while indulging his musical passions in various ways -- performing in church, playing at weddings and local events, becoming a member of a jazz group (Shoop) for several years, and taking jazz lessons (studying Oscar Peterson, Bill Evans and George Shearing).
At the Prince of Peace Lutheran Church, Pederson has spent 15 years accompanying various choirs as part of the Sunday choral worship, playing in the contemporary praise-and-worship band, and being part of many special-event musical performances.
On 12.25 Pederson generally recorded each selection two times and then chose the best performance to put on the CD.
"Because I am classically-trained," states Pederson, "the music on 12.25 is worked out in advance and thoroughly practiced, which is important for some of the more complex segments. However, there is a bit of improvisation on 'It Came Upon a Midnight Clear.'
"When I find a sequence of chord progressions that fires me up, I use that as my inspiration to write new sections of music to go along with traditional melodies, and also to find new ways of integrating the old and the new. I like to experiment. I will play rhythm chords with both hands or I might have my left take up the melody while my right is playing a counter-melody or exploring something different.
"On this album I try to subtly float in a little of the melody of 'Carol of the Bells' into 'God Rest Ye Merry Gentlemen,' and a hint of 'Away in the Manger' during 'Do You Hear What I Hear.' The listener might not necessarily be able to pinpoint the tune, but hopefully it adds to the experience of the whole piece."
Another subtlety is the influence on Pederson's playing from the torrential rainstorm that happened during the recording session.
"Looking out the windows as I played and seeing these ridiculous buckets of rain coming down was an incredible experience and actually a good mood-setter for some of the more melancholy and contemplative pieces such as 'In The Bleak Midwinter' and 'Lo How a Rose.' The microphones even picked up a tiny bit of the sound of rain in the distant background which adds an interesting ambience."
---
© 2011 EntertainmentMagazine.net. Entertainment Magazine network. All rights reserved.