Because of a diverse musical background, Rick Cutler's sound is considerably different than most acoustic pianists who play solo. On his second recording, First Melancholy Then the Night Stretch
, you hear not only the elements of neo-classical and new age you would expect, but also his background performing both improvisational jazz (he studied with Chick Corea) and classic pop standards (he toured for 18 years with singer and tap-dance legend Gregory Hines and for more than a decade with Liza Minnelli).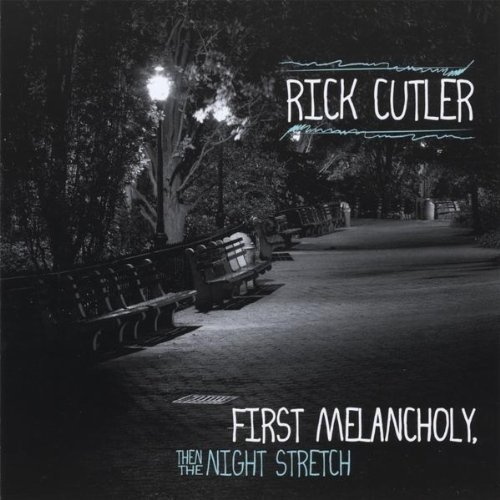 The range of Cutler's musical experiences gives great depth to his playing.
He studied classical music at the prestigious Juilliard School of Music, played his original jazz-rock-fusion compositions with the band Exit, toured with disco queen Gloria Gaynor for a year, worked with jazz violinist Noel Pointer for more than a half-dozen years, performed in the bands of ground-breaking Broadway shows such as "Hair" and "The Wiz," and wrote television theme-songs heard by millions upon millions of TV viewers.
Cutler's rich and varied musical background includes performing on-stage with numerous jazz, pop, rock and comedy stars including Herbie Hancock, Freddie Hubbard, Harry Connick Jr., Don Rickles, Billy Eckstine, Donna Summer, Michael Franks, Rodney Dangerfield, Larry Coryell, Jon Lucien, Regis Philbin, Johnny Hartman, Savion Glover, Perry Farrell (of Jane's Addiction), Richie Stotts (of the Plasmatics) and Charles Aznavour.
When Cutler was in his late teens, he was one of the original percussionists for Leonard Bernstein's "Mass." Cutler was a member of the orchestra that performed it for the opening of the Kennedy Center in Washington D.C., and also appears on the recording conducted by Bernstein.
Rick's father was a jazz and big band fan, and turned his young son onto that music. "Seeing The Beatles on 'The Ed Sullivan Show' was a life-changing experience for me when I was a child," remembers Rick. During his years of music studies, he enjoyed a long list of traditional classical composers, especially Chopin, Debussy and the avant-garde modernist Erik Satie. But Cutler became most passionate about the jazz of Miles Davis, starting in the mid-Sixties and continuing into the Seventies, and all of the incredible musicians who played in those bands and then went on to solo careers, including Chick Corea, Herbie Hancock, Keith Jarrett, Wayne Shorter and Tony Williams. All of these classical and jazz influences, especially the early Seventies solo piano recordings by Corea and Jarrett, can be heard in Cutler's playing on his two albums, Sanctuaries and First Melancholy, Then the Night Stretch.
Cutler wrote all the material on his two CDs by sitting at the piano and improvising until he came up with themes that he liked. For the actual recording in the studio, he played an acoustic grand piano (nothing synthesized, and mostly unedited takes). He took his composed themes and used the harmonies as a jumping off point for improvisational sections within each piece. "At the recording session I ended up playing one tune twice as slow as I had originally envisioned just because it felt right at the moment. I gave myself the freedom to go where the music pulled me."
The music on First Melancholy, Then the Night Stretch ranges from the captivating melody of "Charlotte's Roads Before Her" to the intense avant-garde approach on "From Then Til Now." There is the reverent "Hymn" with its forceful center section, the Americana spiritual "Going Home," and "Indian Sunset" featuring strong chord patterns off-set with some very high-end notes. Cutler creates a virtual soundtrack for a space exploration film with three tunes, all titled "Alien Landscape" (which incorporates the eerie sound of extraterrestrial wind). Several of the compositions pay tribute to other musicians -- "Noise (For Tony Williams)," "Song for Noel" (Pointer), "Thank You (for McCoy Tyner)" and "Debussy."
The wide-appeal of the album is evident from the fact that it is climbing two international airplay charts -- the Zone Music Reporter chart (primarily softer new age music) and the Roots Music Report Jazz chart (which often includes exploratory jazz out of the mainstream). Further appeal to new age music audiences is the fact that Cutler has been a practicing Buddhist for 16 years and chants regularly, but also incorporates transcendental meditation into his life twice a day. Cutler includes a quote from Maharishi Mahesh Yogi inside the album, and that quote inspired the tune "Measuring Eternity" on the album.
Cutler's musicianship goes beyond the composing and solo piano playing shown on his two albums. He also is adept at a wide array of keyboards and synthesizers. But perhaps most surprising to listeners of his recordings is that he is as well-known in music circles for his drumming and percussion playing as his keyboard skills. For example, he played keyboards with Liza Minelli for many years, but is currently touring as her drummer. When he played with Noel Pointer, Cutler was primarily the keyboardist, but also was utilized as a percussionist and vibraphonist.
Rick Cutler began playing drums when he was only five-and-a-half, and started learning keyboards in his mid-teens when he also began composing. He played in school bands and orchestras, took classical piano lessons, and studied with members of the New York Philharmonic Orchestra. When he was just 16, he began subbing on percussion and drums in the rock band that accompanied the original Broadway production of the influential rock-musical "Hair." At Juilliard he majored in percussion and minored in piano. The school's important Wednesday One O'Clock Concerts at Lincoln Center's Alice Tully Hall in New York City had always featured classical music, but Cutler got the approval to break with tradition and showcased his original jazz piano compositions.
After studying with Chick Corea in the early Seventies, Cutler formed his own fusion band, Exit, in which he played keyboards. As a favor, Cutler let Corea rehearse his band Return to Forever in Cutler's loft-apartment in New York City. When Exit was hired as Gloria Gaynor's backing band, the group usually opened her shows with a few of Cutler's jazz numbers, and because she was a jazz fan, they also often played a few jazz standards for Gloria to sing.
Cutler also became an in-demand musician for Broadway shows such as "Candide," "They're Playing Our Song," "Woman of the Year" and "Seesaw." He went on to compose for TV, film and radio. This included the themes for "Dateline NBC" (the music was nominated for an Emmy), "Later Today" on NBC, New York Yankees broadcasts on MSG Cable, and "The Outlaws & The Lawmen" mini-series on the Discovery channel. While serving as Gregory Hines' keyboardist and musical director, Cutler wrote the tune "Boom" which was choreographed by Hines and performed at the nationally-televised "Gala for the President" with President and Mrs. Clinton in attendance. Cutler also was the composer of all of the original material for "The Gregory Hines Show" on CBS-TV.
In addition, Rick has played on albums by Liza Minnelli (Live at The Palace and Live at Radio City), Michael Franks (Objects of Desire), Bob Franke, Rodney Jones (alongside Miles Davis producer Marcus Miller), Fred Tompkins (alongside jazz drumming legends Elvin Jones and Lenny White), Steve Lampert, Catherine Dupuis, Ashley Brown (produced by Tony Bennett's musical director Lee Musiker) and Joyce Lyons, as well as the movie soundtrack to the musical "Hair," and the aforementioned "Mass" conducted by Leonard Bernstein.
"Being a drummer & percussionist for so many years, it's only natural that I'd bring certain aspects of rhythm to the piano," explains Cutler. "But I don't think about it consciously. I try to do what best serves the music. Once a piece is written, the music itself dictates how it wants to be performed, and will even give a direction for the title. We are all a product of our influences, so I don't try to keep them out. If elements of Keith, Herbie or Chick show their heads, that's fine."
Rick Cutler's music can be purchased either as a CD or as digital downloads at numerous online sales sites such as CDbaby, Amazon.com, iTunes, eMusic, Rhapsody and many others. For more information about Cutler, visit his website at www.humanrick.com.