Entertainment Magazine.net: Music
TERRA GUITARRA RELEASES EIGHTH RECORDING – OF SEA & STARS
The extremely-entertaining acoustic-guitar duo Terra Guitarra has created a new body of music, the album Of Sea & Stars, that makes a correlation between the exploration of earth's oceans and outer-space because both represent places that have to be journeyed across in order to settle new lands and to gain additional insights into human consciousness, spiritual awakening and scientific knowledge.
---
---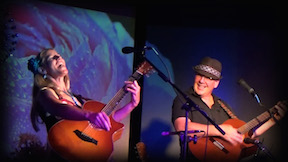 "There is a connectedness between the sea and the stars," explains Terra Guitarra lead-guitarist and composer Bruce Hecksel. A thousand years ago humans were starting to venture out into the oceans of the world in search of new land masses, and now we are taking our first tentative steps into space. The early ocean voyagers navigated by using the stars at night. You can even argue that our biological makeup is saltwater and stardust.
And both the sea and all those solar systems out there represent places that we have not fully explored and that contain vast sources of information that we know so little about. For the most part we have not yet reached the point where we are readily astute enough to accept knowledge that could be valuable to us whether that means communicating with whales or deciphering messages from other places in the universe.
"While these concepts lent inspiration to our music, we primarily want to create inspiring art that pulls from many lands and cultures in hopes that a world-fusion sound that enables listeners to discover their common human global unity. I believe music is one way to reach for bliss, to elevate the soul to a higher plane, to find joy outside of material things, and to encourage spirituality as a way of bettering the human experience."
Terra Guitarra's music features Hecksel's fluid, melodic, often-rapid soloing on acoustic guitar in combination with the incredibly-powerful and foundational rhythm-guitar playing by his partner, Julie Patchouli. On this new album they expanded their popular sound in several ways. As in the past, Patchouli most often percussively strums chords creating a full-bodied underlying resonance, but on several of the new tunes she switches to playing intricate finger-style guitar rhythms that add an additional dimension to their sound.
Similarly, Hecksel has always been known for his inventive and mesmerizing solo runs, but because Terra Guitarra is such a popular live act, he wanted to make sure he could reproduce his part of the material in concert. So instead of overdubbing several guitar parts on the recording, he worked out methods of playing both his lead-lines and a harmony part at the same time.
While Terra Guitarra first rose to popularity based on their version of the nouveau flamenco sound, they also are committed to incorporating new styles into the mix. Of Sea & Stars has native wood flutes featured more prominently than before, and with a carefully-designed expansive mix, listeners can clearly hear additional instrumentation such as bass, congas, various other drums and hand percussion played by both members.
"Our music has always been Latin-based," says Patchouli, "with rhythms and sounds from either the Mediterranean -- Spain, Greece and Morocco -- or the Caribbean, or Central and South America. But slowly we keep expanding our sound whether it is adding Native American wood flute or subtle elements from places such as Northern Europe or Africa."
The tunes on Of Sea & Stars have a global fusion influence highlighting many cultures and sounds. "Night River" is a Middle Eastern melody played on a Native American flute over a Spanish guitar rhythm. The title refers to the Native American description of the Milky Way.
"Wave Walker" is a name of a Viking ship. "Zorbas" is a cover version of the "Zorba the Greek" film theme. "Viracocha" is the name of a god of sea, land and sky who taught the civilized arts to the Incas. "Circadia" is a play on words between circadian rhythms and the French Acadian settlers who came to North America in the 17th Century.
"Alegria" means bliss in Portuguese. The album closes with "Aurora," a sonic description of aurora borealis radiating in the northern climes.
Hecksel says, "The music on Of Sea & Stars is meant to direct the listener to both contemplation and bliss. These melodies evoke a picture of Old World meets New World. First it harkens back to age-old folk minstrels, village squares paved with cobblestones, a church-spire heralding the next town on a journey, the swirling and bustling marketplace, musicians in an intimate cantina late at night. Then the images move to the mysteries of space, billions of stars in the night sky, pulsating sounds reaching our planet from the depths of the cosmos. Our music then joins in harmony with the vibrations of the universe."
Terra Guitarra, as their name implies, focuses on two things -- guitar explorations and planet earth. The music encompasses their love of nature, travel, festivals, journeys of personal growth, and spiritual reflection. "Usually the melodies first come to me when I am in a meditative state. It could be during meditation, or those moments between dreaming and awakening, or outside experiencing nature or even when we are performing," says Hecksel.
"The melodies are reflective of the earth's energy and vibrations."
There is no denying the popularity of Terra Guitarra's music, not only from the sales of their albums, but also because they perform before the public more than 200 days each year. In addition, their last two studio albums of original material, Dragonfly and Firelight, received international marketing campaigns that resulted in extensive airplay around the world.
The albums went to #4 and #5 respectively on the monthly international Zone Music Reporter Top 100 Chart (the main list for this type of music globally). In addition, the ZMR radio programmers selected both recordings to be in the Top 5 "Acoustic Instrumental Albums of the Year" when they were released (and out of the 2,100 annual chart albums, Dragonfly was #27 and Firelight was #14 for the entire year).
Firelight also went to #1 on the One World Music Chart and was nominated for that prestigious channel's "Album of the Year" Award (finishing 3rd overall in that category). Long ago eclipsing the intensive, broad-based musical studies of their youth, Hecksel and Patchouli are famous for their prodigious discipline of touring and prolific creative output.
They have traveled over a million miles playing more than 3,500 performances while releasing an album per year for 20 years in the top ranks of two distinct genres, and created a trademark visual art style in paint and animation.
Bruce, who has painted all his life, began a special series of guitar-based paintings for the artwork on the first Terra Guitarra album, and his art has continued to be featured on all their subsequent CDs. Hecksel's painting has expanded and evolved leading to national art exhibitions as well as sales of originals and limited edition giclee prints (details at terraguitarra dot com).
At special concerts Terra Guitarra presents "The Landscape of Guitar," a multi-media experience that combines their music with projection of Bruce's artwork in animated form. More information on Terra Guitarra is available at their website (terraguitarra dot com).
Their Earthsign Records CDs -- Terra Guitarra, Winter Solstice, The Mother Night, Dragonfly, Auld Lang Syne, Firelight, Live at the Big River Theatre and Of Sea & Stars, and digital download tracks from those recordings -- are available on their website as well as at online sales sites such as CDbaby, Amazon, iTunes and many others. Fans can also purchase recordings by Bruce Hecksel and Julie Patchouli's alter-ego group, the eclectic acoustic singer-songwriter duo called Patchouli which has more than a dozen albums available.
---
Discount restaurant coupon codes
Dining coupons 60% off or more! Restaurant.com has a national directory of more than 18,000 restaurants. Search by state, city, neighborhood, zip code and cuisine type to find the perfect restaurant and gift certificates for savings in hundreds of cities across the US. Every week, Restaurant.com has a special dining promotional code for further discounts on each gift certificates. Save on Breakfast, Lunch and Dinner at Restaurant.com
Groupon coupons online
Groupon features a daily deal on the best stuff to do, see, eat, and buy in a variety of cities across the United States and has been recently featured on the Today Show, Good Morning America, and named the #1 Hottest Website for 2010 by Fox Business News! A deal a day great things to do, eat, see, & buy in your area. Shop Groupon.com today!