Entertainment Magazine.net: Music
David Franklin
Songs of Potential Embrace
Multi-instrumentalist David Franklin hears music and rhythm patterns everywhere in his day-to-day life whether it is machines, telephones, a vacuum, vibrating objects, a door closing or a baby crying; he uses these "found sounds" as inspiration or even directly in his compositions. Read more about Songs of Potential Embrace.
NEW DAVID FRANKLIN ALBUM "PLAYING WITH SHADOWS"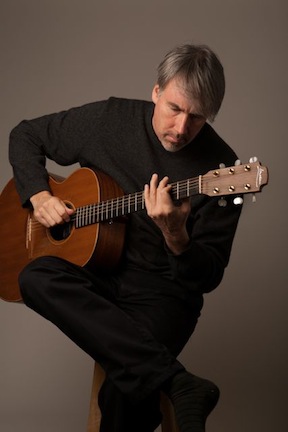 David Franklin believes music is one of humanity's most powerful tools for healing. Previously known for several albums as a singer-songwriter, the eighth recording by this guitarist and pianist is the instrumental Playing With Shadows which he hopes will help listeners connect to their inner feelings and ultimately, create more of a sense of connection in their lives. On 10 of the songs he is joined by bassist par excellence Michael Manring.
Franklin, who also is a Licensed Marriage and Family Therapist in Northern California, says, "Music influences us on many levels, such as relaxing us or making us feel better when we enjoy it as entertainment. It also can serve as a bridge that connects us to ourselves and others, reminding us we are not alone. But it can work on deeper levels too, by helping individuals form a deeper understanding of themselves and others. Ultimately, music in it's highest form is healing, and creating music for others is an honor and privilege."
Franklin has had a varied career. He supported himself in college as a rock'n'roll drummer, became a keyboardist in a rock band in New York City for several years, toured and recorded as an acoustic guitar-playing singer-songwriter, recorded an avant-garde album featuring "found sounds" (such as a vacuum cleaner) and, as an environmentalist, spent a year walking across the country to help raise awareness of environmental issues, all the while performing music.
Playing With Shadows contains solo performances, duos and trios. There are 18 original songs and Franklin plays piano on 15 of them (seven are solo piano pieces). He plays acoustic guitar (always in non-standard tunings) on five of the pieces. Three compositions have Franklin on both piano and guitar.
In addition, ten of the tunes feature Franklin's friend and neighbor Michael Manring, considered the pre-imminent bass-player in new age music with credits including Michael Hedges, Alex deGrassi, Will Ackerman, Montreux, the Turtle Island String Quartet and countless others. Manring plays electric fretless bass. On one of the album's songs, Franklin duets with accordian-player Rick Corrigan (a member of the popular San Francisco Bay Area group The Pick-Pocket Ensemble), and on another Franklin and Manring are joined by Franklin's son, electric-guitarist Alex Franklin (a member of the recording rock group Waterfly Spigot).
Playing With Shadows and other recordings by David Franklin are available as CDs and digital downloads through his website (DavidFranklin.com) as well as many online sales sites including iTunes and Amazon.
"Someone once told me not to be afraid of silence in music and that always stuck with me," explains Franklin. "On this recording I played with silence a lot. I specifically wrote and arranged these pieces to feature space, openness and simplicity because I felt it gave the music more emotional resonance. I also wanted to move through different musical spaces which is why I varied the instrumentation."
Several of album's compositions are placed side-by-side and serve as Part One and Part Two of a theme. "Shifting Landscapes - Dawn" and "Shifting Landscapes - Dusk" represent "how music, journeys and life go through different stages and phases, evolving, shifting, changing." Franklin says he came up with the titles for "Falling Slowly" and "Falling Fast" because "these are the kind of musical pieces that are easy for me to write. I just sort of fall with the music and let it carry me." "Not Just a Walk in the Park" goes with "The Rabbit Hole" and the two melodies represent "an adventure I had with some friends when we got profoundly lost in a forest and wondered if we were ever going to find our way out." "First Day of Autumn" and "Autumn Memories" are Franklin's tribute to his East Coast upbringing when the leaves turn and it becomes obvious that summer is over ("new seasons, changes and transitions -- all part of life").
Regarding the tune "There Used to be Songbirds," Franklin says, "I read an article that said many songbirds will be wiped out by climate change in 30-to-40-years, so this is my requiem for the future." "Giza" was written in Egypt where Franklin was inspired by the huge pyramid of that name. "Living in Interesting Times" is "a play on words because the music radically changes time signatures again and again." When his children were young he wrote the lullaby "Song for the Dreaming" to lead them gently into sleep. He says about the tune "Goodbyes" that "we say little goodbyes all the time, but this was written at a time when a lot of losses were happening to people I deeply care about." The album ends, appropriately, with the pensive solo piano piece "A Final Song" that Franklin improvised in the studio ("It was a happy accident because I was testing sound levels, but the recording equipment happened to be turned on.").
David was born and raised in New Jersey. In he fifth grade he discovered drums, in sixth grade he picked up guitar and started writing songs, and by the time he got to the 11th grade he had added piano and voice to his musical arsenal. He played drums in rock bands through high school and college, while earning a Bachelors degree in Environmental Science at Pennsylvania State University. While at college he also performed as a singer-songwriter. After college he worked in New York City for three years using his environmental degree and taking air samples inside office buildings while also playing keyboards in a rock band.
Wanting to make more of a difference by calling attention to environmental problems and solutions, Franklin took a year off in 1990 to join 90 other environmentalists in The Global Walk for a Livable World, a year-long hike across the country from Los Angeles to Washington DC and New York. Along the way they spoke at schools, to the media and to politicians. Franklin and some of the other environmentalists also performed music. Franklin wrote and recorded songs throughout the trek, and that music was released as an album, Our Children's Only Home.
The albums that followed also contained original compositions and were primarily vocal folk-pop projects -- such as Patterns Yet Unknown and Strangers and Angels -- although the recordings usually contained the occasional instrumental piece. Franklin also did a solo piano album called Traditional Christmas Melodies. One out-of-the-ordinary project was Shadowlands, an avant-garde album influenced by eclectic pioneers such as John Cage and Steve Reich, and geared to induce trance-state healing. The album's experimental music contained the occasional voice or instrument, but primarily focuses on "found sounds" (vacuum cleaners, baby cries, computer printers).
Franklin later returned to college and earned his Masters in Counseling and went on to become licensed as a Marriage and Family Therapist, specializing in working with teenagers, and often incorporating music into his work.
"When I was nine-years-old," remembers Franklin, "I made a promise to myself that never in my life, would I miss a day of playing music. Except for a handful of exceptions because of illness or travel, I've kept that promise for 40 years. This instrumental album, Playing with Shadows, is the culmination of all that playing. Although I enjoyed creating my vocal albums, this one feels the most natural to me. My hope is that the sounds of these quiet instruments may inspire listeners to become more grounded and present, so that they can feel a deeper sense of connection with themselves and others."
---
Discount restaurant coupon codes
Dining coupons 60% off or more! Restaurant.com has a national directory of more than 18,000 restaurants. Search by state, city, neighborhood, zip code and cuisine type to find the perfect restaurant and gift certificates for savings in hundreds of cities across the US. Every week, Restaurant.com has a special dining promotional code for further discounts on each gift certificates. Save on Breakfast, Lunch and Dinner at Restaurant.com
Groupon coupons online
Groupon features a daily deal on the best stuff to do, see, eat, and buy in a variety of cities across the United States and has been recently featured on the Today Show, Good Morning America, and named the #1 Hottest Website for 2010 by Fox Business News! A deal a day great things to do, eat, see, & buy in your area. Shop Groupon.com today!