FUTURE MEMORY
Keyboardist Stephen Savage has taught classical music for more than three decades and has served on the faculties of both the prestigious Berklee College of Music and the New England Conservatory of Music, but when it came time to compose and record original compositions for his first album, Future Memory, he went in a different direction and created synthesizer-based space music.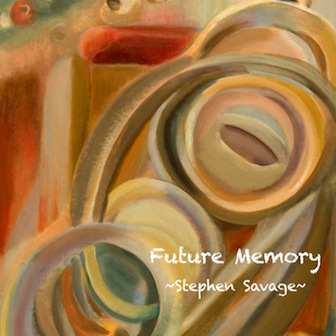 "I love classical music, but I am energized by the possibilities of space music," says Savage. "I especially enjoy how it allows me to subtly incorporate elements of ambient-new age, avant-garde jazz, modern-classical and electronica."
Savage explains, "I called the album Future Memory because the phrase is symbolic of the cycle of life. Everything in the future that eventually happens becomes a memory. The future is a bit like a sci-fi mystery, but we know it will contain more technology, space exploration and types of music we have never heard before. So the title seemed representative of this project. The music originated as improvisations before I refined it in the studio. Improvisation is all about creating new music in the moment, that fleeting place between the future and the past."
Future Memory is available worldwide online from CDbaby.com and Amazon.com, and from various digital download locations such as iTunes. More information about Stephen Savage is available at his website, www.ssavage.com, and at www.proofofinfinity.com.
"This music probably had its origins for me when I was 13-years-old and I heard Pink Floyd's 'Interstellar Overdrive.' Then in college I became enamored with the modern classical music of 20th Century composers such as Bartok, Charles Ives, Elliott Carter, Varese, Stockhausen, Stravinsky and Copland. Shortly after that I explored jazz starting with Parker, Coltrane and Monk, moving through Hancock, Corea and Tyner, and finally delving into John McLaughlin, Weather Report and Pat Metheny. Eventually I also heard the very avant-garde cutting-edge music of artists such as John Cage, Steve Reich and Pierre Boulez. All of these musical experiences led me to my love of composing and recording ambient and space music."
In addition to teaching music for five years at the Berklee College of Music and the past couple of decades at the New England Conservatory of Music, Savage also has taught at Indian Hill Music Center and top prep schools (Groton School, Lawrence Academy) as well as giving private lessons. Savage also has performed concerts in the academic world, served as an orchestral pianist and choral accompanist, worked with an improvisational operatic group, played in rock bands, received commissions to write several modern classical pieces, won a composition prize, created a substantial catalogue of publicly-performed compositions, played as a duo with a female singer, and worked in the field of computer programming for more than four years.
One of Savage's music theory students, Michael O'Connell, began recording an album and invited Savage to come to the studio. Soon the two were collaborating and O'Connell encouraged Savage to record his own album. O'Connell produced, engineered and mixed Future Memory, and also added drums or percussion to four of the tunes. "Michael helped me make decisions about the sound and instrumentation as well as the structure of the pieces," states Savage. "Most of the music started with me doing piano improvisation in my home studio and then orchestrating the basic track for electronic media. Sometimes the original track stayed intact and other times the best sections were edited together. I took the music to Michael and we molded it into its final form at his professional studio."
The music on Future Memory ranges from space music to ambient, from avant-garde to new age. Five of the pieces have rhythmic elements (either real drums, percussion or drum programming), a couple feature avant-garde piano, and the rest are soaring, floating space-music tunes without a distinct beat. The album's dominant sound is electronic keyboards (synthesizer). In addition to the occasional percussion, there also is a guitar (played by Savage) on one tune, and the sounds of acoustic piano, electric piano, bass, drone, chimes and more.
"Often in this music when you hear the piano it represents the individual and when you hear the synth it represents the whole big universe swirling around an individual person. The tune 'Gravity' is like that. The title has the dual meanings of gravitational pull as well as profundity, depth and seriousness. The title of 'Then There is Here Now' also has several meanings, but the basic statement is that the past is always here in the present too. There is more than one meaning to the title 'Lux' as well since it refers to the light photons of physics as well as the devotional feeling that shows up in most religions. Physics also comes into play with 'Talking Rocks' because a rock seems solid, but science tells us there is a lot of energy happening in there with the electrons and molecules moving rapidly, and which I hope is reflected in the music," says Savage.
"With 'Other Shore' I tried to capture the feelings of being transformed and transported, while 'After the Circus' contains the feeling of the melancholy sadness often felt following an exciting event. The music of 'Leaf on a Stream' symbolizes the ebb and flow of our life journey. 'Ponder' was inspired by Charles Ives' 'The Unanswered Question.' On 'Riding the Cusp' the rhythm does not always coordinate with the meter so I like to think of that piece as chaos barely under control. I set it up so I would not know exactly what was going to happen with the synthesized elements which makes it fall into the category of aleatoric music, the type of composing explored by Ives, Stockhausen, Cage and Boulez. The title tune begins with acoustic instruments that slowly, by the end, become electrified. The structure of 'Ruby Sapphire' is A-B-A and I visualized the outer sections to have a red quality with the inner part a dazzling blue."
Savage was born in St. Louis and grew up in Santa Fe. He came from a creative family -- his mother played the piano and his father was both a technical writer at the renowned Los Alamos Scientific Laboratory as well as a published novelist and short-story writer. Stephen began piano lessons at age seven, but switched to guitar in his early teens to play in local rock'n'roll bands that performed at school dances. "When I was 16 a switch flipped in my head and I became passionate about classical music, so I started taking piano lessons again and began studying composition."
He attended the New England Conservatory in Boston where he earned his Bachelor of Music degree with honors in music composition, and spent the next five years as a faculty member at Berklee College of Music teaching theory, composition and piano. After further studies at New England Conservatory, he received his Master of Music degree in composition. He then joined the music theory faculty of NEC's Preparatory School and Continuing Education Division. Savage has much experience teaching specifically in the areas of theory, counterpoint, harmony, figured bass and jazz improvisation.
Savage also performed recitals in high school, in master classes at college, with the Indian Hill Symphony, at hotels and other venues in the Boston area, and as part of special New England Conservatory faculty concerts. Savage played piano and performed for several years with singer Margaret Richardson (both composed pieces for the duo), and with the improvisational group New Opera Theatre Ensemble.
"A lot of thought went into the creation of the music on Future Memory. For me the music has to develop and go somewhere. I don't want it to be static; I want the listener to feel the motion. And there has to be an internal coherence to each piece. Sometimes the shifts, changes and reoccurring patterns are subtle, but they're in there for a reason."
---
---
© 2013 EntertainmentMagazine.net. Entertainment Magazine network. All rights reserved.