AOMUSIC wants global music unity
The musical group AOMUSIC was founded on the belief that "nature only knows humanity as one being – that we are facets of one jewel." On their third album, ...and Love Rages On!, AOMUSIC continues to create astounding, transformative, international, world-fusion sounds truly reflecting our global community.
The music features new vocal sounds (with a few segments derived from known languages), worldbeat rhythms, one of the most acclaimed new age vocalists of our time, and children's choirs from four continents. AOMUSIC creates a carefully-woven, unified musical tapestry -- instantly-familiar, but unidentifiable with any single culture, race or region.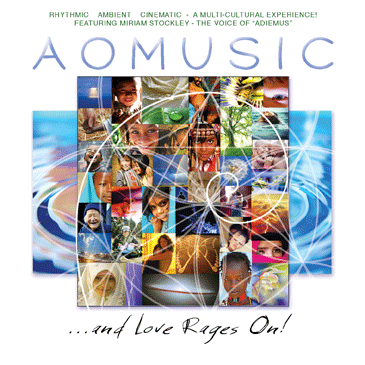 AOMUSIC (pronounced as four syllables with a long A and long O) is comprised of Richard Gannaway (vocals, stringed instruments), Jay Oliver (keyboards, synths and samples) and Miriam Stockley (vocals).
All three collaborate in composing the group's material and collectively, they have played with many of the biggest pop, rock and world music acts from around the globe (for example, Stockley was the voice of the best-selling group Adiemus).
AOMUSIC's three recordings -- ...and Love Rages On!, Twirl, and Grow Wild -- can be purchased in CD form or as digital downloads from all major land and online sources. Music can also be purchased direct from the group's indie label. For more information about AOMUSIC, go to aomusic.com.
Listen to music samples, purchase MP3s from Amazon.com for ...and Love Rages On!
This group's music features a wide array of musical styles, instruments and rhythms from all over the planet, but beyond the global grooves, the most special aspect of their sound is the singing.
Much of the singing is wordless vocalizing, also known as vocalese, but occasionally Gannaway sings passages in English and some of the vocals are comprised of bits and pieces of known languages including Gaelic, Polynesian, African Bantu, ancient Mayan and many others, all of which adds to the universality of the sound.
Adding another unique and powerful dimension to the vocal mix is the addition of a myriad of children's choirs from the United States, South Africa, India, China and the Republic of Georgia (the Eurasian Eastern Bloc country), all recorded on location.
Gannaway and Oliver, both Americans, founded AOMUSIC at the turn of the millennium. Stockley joined at the time of the second album. All three bring a wealth of musical credentials to this eclectic group. The concept originated with Gannaway, a longtime explorer of ethnomusicology from around the world.
He plays stringed-instruments from different cultures, and is a life-long student of "word shapes", in which he believes a hidden language is found, akin to sacred geometry. He and Stockley explore a myriad of current and ancient languages for use in AOMUSIC. Gannaway began playing acoustic, stringed instruments in the Homegrown Harvest Band, a top touring new-grass act. He explored a more electric, rock sound with the recording group Tiger & the Helix, which built a strong following in Europe from airplay and touring.
Jay Oliver came out of a jazz background (Maynard Ferguson, Dave Weckl, Chick Corea) before becoming an in-demand pop and rock session musician and composer in Los Angeles working with top acts such as the Eagles, Jimmy Buffett, Bonnie Raitt, Boz Scaggs, Peabo Bryson, Joe Walsh and Glenn Frey. Oliver also founded a company specializing in the use of proprietary tonal, pitch and rhythm mapping technologies that aid infants in the areas of brain development, sleeping and coping with their environment.
Miriam Stockley was born in Johannesburg, South Africa, but lived extensively in England before moving to the United States. She is best-known as the acclaimed lead vocalist of the group Adiemus, which exploded on the music scene in the mid-Nineties with the top-selling Songs of Sanctuary followed by four additional CDs. Stockley also has three solo albums -- Eternal, Second Nature and Miriam.
Her vocals have graced recordings by many major acts including Mike Oldfield, David Arkenstone, Kylie Minogue, Brian May, Tina Turner, Sarah Brightman, Queen, Katrina and The Waves and Natalie Imbruglia. Stockley also was part of the successful UK group Praise and sang backing vocals for The Lord of the Rings film trilogy.
AOMUSIC's Twirl CD went Top 5 on the Zone Music Reporter international Top 100 airplay chart. In addition, AOMUSIC has composed and recorded music for special projects such as the 2008 Summer Olympic Games (at the request of the Beijing Olympic Committee), the promotional film for Project Peace on Earth, and the Give Kids the World Foundation. AOMUSIC also has aligned with the FirstGiving (GlobalGiving) organization to help raise charitable funds specifically to help build sustainable villages for Haiti children who were displaced by the earthquake there in 2010.
The word AO is from ancient Polynesia meaning "pure light" or "all colors" which is relevant to the group's message of "One People, One World." According to Gannaway, "AOMUSIC represents light, refracted into color - plurality from one. The great thing about music is how it obliterates all barriers and boundaries, which distract us from wholeness. As a universal reservoir that all our roots are soaking in, music allows us to connect with each other's core essence. With each AOMUSIC song, we try to blend enough color until a global singularity is felt. The trick is to keep it simple and exciting with so much ethnic fusion going on."
Oliver says, "We're at a stage in history when the world is changing rapidly. People everywhere are tied together financially, with instantaneous communications anywhere, sharing news and art, and questioning the old ways. We are all becoming closer and ultimately it will become obvious there is only one society. AOMUSIC wants to help prepare people for future changes, especially by getting people to engage their hearts and embrace our shared human qualities."
The album ...and Love Rages On! begins with "Gaiya Lo Mane" (carefully-selected vocalese phonetic sounds sung by Miriam and The Chorus of Light children's choir from Orlando, Florida). "In Lake'Ch (I Am Another You)" has words that are ancient Mayan from 2,000 years ago (meaning "You are me and I am you") and features unison singing by Richard Gannaway and Stockley, plus The Martve Boy's Choir of Tibilisi, Republic of Georgia, and Gannaway on Irish bouzouki and Andy Georges on Greek bouzouki. "Shen Deni" also contains vocalese (or wordless vocals) along with blended percussion sounds from Ireland, Cuba, India and West Africa (the flute is played by Ashwin Srinivasan in Mumbai, India).
On "Ena Na Lena" the singing contains various syllables taken from Polynesian, Gaelic and Swedish languages (translated as "Little flame, my flower of light"). Gannaway calls it, "A love song to one's own heart." The song features the Bishop Bavin St. George's Children's Choir from Johannesburg, South Africa, and the Rainbow Mountain Children's School Choir from Asheville, North Carolina, USA. Mike Cooney from Ireland performs on pennywhistle plus Kimba Arem on didgeridoo. "Sheyu" has singing in English and also uses the West African word "Ayo" (meaning "joyful"). This is a duet between Gannaway and Stockley singing lyrics of hope. "We wrote 'Kumale Saleyo' like an African folk song, but none of the sounds are actual words," explains Stockley, who layered her vocals.
"Tio Da Ye" is another duet by Gannaway and Stockley singing sounds from various African dialects stating we should share our human gifts of love, peace, beauty and joy. The bulk of the vocals on "One Kaleo" are by The CRC Children's Choir in Beijing and the words tell the Chinese version of the classic "Little Red Riding Hood" story. The song title (and chorus) is a Polynesian word, meaning "one voice of love" (symbolic of global unity).
According to Gannaway, "The song 'Ubuntu' carries a special message that helps define what AOMUSIC is all about. The title is from the Bantu language of southern Africa. Ubuntu is a humanist philosophy focusing on people's relationships to each other, specifically that we are all interconnected and that whatever a person does affects the whole world."
---
© 2011 EntertainmentMagazine.net. Entertainment Magazine network. All rights reserved.