Energy is everywhere in the universe, from a tiny grain of sand on Earth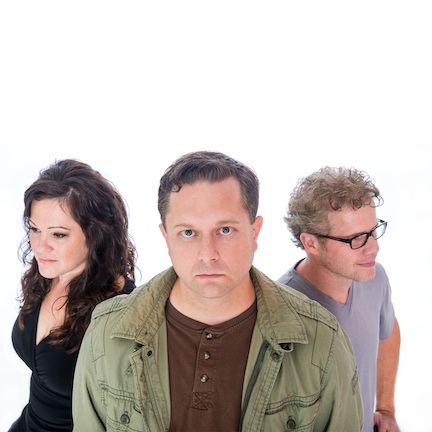 containing sub-atomic particles moving around inside it, to the largest fiery star a billion light-years away.
Energy causes movement, and movement causes vibrations, waves, oscillations and frequencies. In this way, energy -- even that created in deep-space and traveling for millenniums to reach our planet -- is absorbed by human beings.
A few of those beings tune in to what some call the "Cosmo Frequency."
Cosmo Frequency also is the name of a musical group formed by keyboardists and tech-wizards Paul Martinson and Brent Vincent (with occasional vocals by Lisa Wegener).
The group has released their debut album, Soundtrack to Life, containing a dozen mostly-instrumental tunes that includes some soft pieces, many mid-tempo numbers featuring a variety of synth sounds including the Electronic Woodwind Instrument (EWI), and some up-tempo tunes with dance rhythms. The album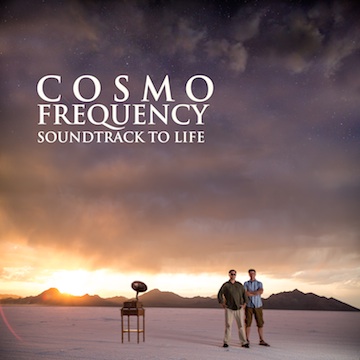 includes the sounds of synthesizers, Native flute, drums, bass, trumpet, flugelhorn, electric guitars, piano, percussion, background singing, and much more.
"We connect to the cosmos which allows our inner light-worker to absorb the messages and turn them into sounds," explains Martinson. "We tune into the vibrations and positive influences which allows us to capture the music that surrounds us. It is a journey that includes light, love, joy, passion and positive energy. I discovered at an early age that I was able to hear music based on feeling. There is an infinite amount of energy resonating around us all the time so there are an infinite number of frequencies to tune into. On this album we present a small selection of the musical frequencies that we have discovered, that we enjoy and that resonate within us."
"Sometimes we are asked why we pay so much attention to our rhythms," Vincent says. "It is because the energy of the universe is rhythmic, pulsating, vibrating. Rhythms can come from atomic movement, space storms, solar flare-ups, light-waves, radio-waves, ocean waves, a heartbeat. There are rhythms everywhere in everything, and our music reflects that."
Cosmo Frequency's Soundtrack to Life (on Good Moves Music) can be purchased either as a CD or as digital downloads at online sales sites such as CDbaby, Amazon, iTunes, eMusic, Rhapsody and many others. For more information about Cosmo Frequency, visit their website at cosmofrequency.com.
Paul and Brent both started creating original music at a young age, and both became adept at utilizing electronic keyboards, synthesizers, sequencers and computers to create their own music. Martinson was a member of a new age music recording group while Vincent pursued a career in DJ-live-mixing at dance clubs. They shared their music with each other as school children, lost track of each other for more than two decades, reconnected via the Internet, felt they were on the same frequency and began working together again on this musical project.
A half-minute into Soundtrack to Life a 25-second poem is read (the poetry is by Matt Bowen, a friend of Paul's, and the spiritual and space imagery ends with the phrase "a universe's song about to begin a new refrain") and the tune continues with a meditational chant. The majestic tune "The Gift" features the sounds of solar wind, an old funky piano and the EWI playing a horn part. "Apollo Skies" was inspired by the Apollo space missions ("As a child I would go outside and watch the space shuttle orbiting," remembers Martinson).
The album kicks into another gear with the up-tempo dance tune "Classic Story (Light Years Away)" on which Vincent brings his dance-club re-mix skills to the forefront. "The impetus behind the tune," says Martinson, "is trying to fulfill a dream that feels achievable, but is far away in time sequence." The following tune, "Chillaxin," also is rhythmic and upbeat with a featured wood-flute sound over the top of propulsive percussion. The music shifts gears again with "Canyon Chant" and its flute and percussion paint gentle Native American imagery. "World of Light" features Lisa Wegener singing Martinson's lyrics about "consciousness" and includes a flugelhorn solo near the end.
"Eventide" captures the feeling of "winding down and relaxing at twilight just after the sun goes down," explains Martinson. It includes the sounds of old and new guitars mixed together. The softest and slowest piece on the recording is "Winter Solstice" combining piano and synth. The CD cranks it up again with a pair of related Brent Vincent tunes, "Mt. Emotion (Part 1) and (Part 2)" utilizing what the group calls "a progressive trance beat." The album ends with the tempo-varying "Horizon" (inspired by the Winter Olympics) and featuring a powerful beat and inspirational melody.
Both Martinson and Vincent are natives of Utah and still live near Salt Lake City. Paul first played a recorder at age nine and then a clarinet for four years in school (which prepared him to play the EWI many years later), but by high school he was immersed in keyboards. Brent began picking out tunes on piano at age five and also graduated to electronic keyboards at an early age. They met in middle school in a math class and exchanged music they had been working on (as a precursor of what was to come, Brent did a remix of one of Paul's original tunes).
Paul's neighbor, Arlene Baumgardner, was a new age music flutist with a home studio and she had released three albums under the name Gentle Wind and Rain. Paul began recording in her studio with her son, Mike, and other musicians who worked with her, and using the name Europa Prime they released an album that received scattered airplay in the West. Martinson also entered the Arts in Progress music competition with early solo versions of three tunes that appear on Soundtrack to Life ("Canyon Chant," "Eventide" and "Horizon") and won First Place. Martinson's musical influences have included Vangelis ("his music on Carl Sagan's "Cosmos" TV series was awesome and inspired the name of our group"), Mannheim Steamroller, Mike Oldfield, Ray Lynch, Yanni and Enya.
During his school years Vincent was listening to groups such as Depeche Mode, Erasure, Underworld, La Bouche, Black Box and Underworld, but was especially influenced by a Friday night live radio broadcast from a dance club featuring DJ beat-mixing. This inspired Vincent to become a club-DJ while still in high school and he has pursued that career for the past decade-and-a-half.
"Doing club-DJ work is very creative because I mix together current hits, classic music and my own material with beats and other sounds that I am creating right at that moment," explains Vincent. "So the audience will never hear that music exactly that same way ever again. It is sort of like improvisational jamming." At the same time Vincent became a music producer and built a successful business doing remixes and covers for clients as well as creating original music soundtracks for television advertising and performance videos. Several of his clients have been fitness-oriented (Cathe Friedrich, Power Music and Dynamix Music).
When Vincent was a youngster and his family moved, he and Martinson lost touch with each other for 22 years. But in 2012 Martinson spotted some music Vincent had posted on SoundCloud and they reconnected. Once again sharing original music back-and-forth, they realized they had a lot of good ideas for each other, so they began collaborating as Cosmo Frequency in December 2012. They each add contributions to every tune and consider the project a co-production.
"We hope the music on our album will help the listener align with the vibrations, tune into the best frequencies and feel the positive influences of the great cosmos allowing each person to capture the energy around them and bring forth their own creations into the physical realm," states Martinson.