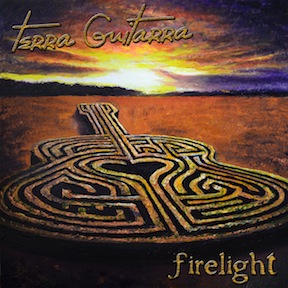 In all of human history, being able to light a fire whenever needed was one of the world's most important discoveries. For thousands and thousands of years nothing was as crucial as being able to see at night, cook the food, keep safe from animals of prey, stay warm, and gather around a fire to share stories. So the acoustic guitar duo Terra Guitarra named their latest album
Firelight
as a tribute to the historical significance of this development by mankind.
"Creating fire was arguably the biggest innovation on the planet," states Terra Guitarra's Bruce Hecksel. "People have almost forgotten how significant it was, but occasionally we feel the pull toward the flickering light when we are around a fireplace or campfire or festival bonfire. This new music is our way of remembering the old ways and trying to remind the world of the importance of the basic elements of our existence -- fire, earth, air, water and the sun."
---
---
Terra Guitarra creates a warm, earthy, natural, all-instrumental sound by blending the steel-string acoustic guitar -- with Julie Patchouli primarily laying down the group's strong rhythmic base -- and the nylon-string Latin-styled acoustic guitar played by Bruce Hecksel, who soars with lead picking that is fast-and-fiery, warm-and-passionate and fluid-and-melodic. This combination of instrumentation, and their mostly original compositions, makes for a highly-satisfying sound that begins in the realm of the popular nuevo-flamenco genre before lifting off into the group's own high-flying territory that incorporates elements of jazz, new age, folk, classical and world-fusion. The two guitars are sometimes augmented by drums, ethnic percussion, bass and Native American flute.
There is no denying the popularity of Terra Guitarra's music, not only from the sales of their five albums, but also because they perform before the public more than 200 days each year (more than 2,750 shows so far). In addition, their last album, Dragonfly, went to #4 on the monthly international Zone Music Reporter Top 100 airplay chart, was one of the Top 5 albums in the ZMR Awards "Best Acoustic Instrumental Album" category, and was ZMR's #27 album for the entire year. Touring gives Terra Guitarra the opportunity to try their new music out on an audience which gives the group immediate feedback. These performances also allow Terra Guitarra to change, expand or improvise new sections of their older repertoire to keep it fresh for the public. "Performing is a major part of our music which takes on characteristics of where we are and the flavor of the audience," explains Julie.
More information on Terra Guitarra is available at their website (terraguitarra.com). Their Earthsign Records CDs -- Terra Guitarra, Winter Solstice, The Mother Night, Dragonfly and Firelight -- and digital download tracks from those recordings are available at online sales sites such as CDbaby, Amazon, iTunes and many others. Fans can also purchase recordings by Bruce Hecksel and Julie Patchouli's alter-ego group, the eclectic acoustic singer-songwriter duo called Patchouli which has more than a dozen albums available.
Terra Guitarra, as their name implies, focuses on two things -- guitar explorations and planet earth. The music encompasses their love of nature, travel, fiestas, the outdoors, journeys of personal growth, and spiritual reflection. "Usually the melodies first come to me when I am outside experiencing nature," says Hecksel. "We travel constantly and we find each place has its own musical feeling. Our music celebrates the landscape and the people there. The melodies are reflective of the earth's energy and vibrations."
The tunes on Firelight represent "a spiritual and physical-healing journey of personal exploration and discovery," according to Hecksel. "It's about everyday's eternal labyrinth where we strive to find our heart center." Patchouli adds, "This recording has a lot of rhythmic diversity and energy, a fiery spirit. We also take the Firelight concept to another level by thinking of our sun as the ultimate firelight. So we bookended the album with the tunes 'Maya' and 'Coucher du Soleil' that represent a sunrise and a sunset, some of nature's beauty that people have been enjoying since the time humans originated. Bruce's artwork also incorporates this since he painted a sunrise for the front cover and a sunset for the back of the CD."
"Some tunes, such as 'October' and 'Summerdance,' were inspired by the natural cycles of the seasons," according to Hecksel. "Other were influenced by places, 'North Country' and 'Sierra,' while a couple of others, 'Cloud Bird' and 'Sonando,' came about through meditation or a lucid dreamstate. 'Heartland' is less a place of the world and more about me soul-searching and coming to a place inside my psyche where I can experience peace."
"The day I was developing the rhythm for 'Sunshower'," says Patchouli, "there was a quick shower of pouring rain and then the sun came back out. When we were recording it, another sunshower arrived along with a double rainbow, so we took it as a sign and named the piece 'Sunshower.' The only music on this CD that we didn't write is the traditional tune 'Malaguena' and we do a dramatic, fluid and energetic version with some speed-lead."
Bruce, who is from Minneapolis, Minnesota, started playing piano at age five (he won several state contests), moved to guitar at 13, played electric guitar in punk-rock bands in high school, and became enamored with acoustic guitar when he was 18. He attended college, first as a music major (studying piano, guitar, choral music and composition) before switching to theology. "My father was a pastor and I'm fascinated with the metaphysical, but eventually my love of guitar-playing took over my life. I studied with Eric Lugosch, who was a national fingerstyle champion, and he introduced me to the music of Rev. Gary Davis, Leo Kottke and Michael Hedges. At that time I started composing solo guitar pieces spontaneously. When I began performing professionally I became more of a flatpicking acoustic lead guitarist, but always incorporating rock and classical influences."
Julie grew up in the Chicago, Illinois, area where she began playing violin at age seven, moved on to drums and percussion through elementary school, learned trombone in junior high, and switched to acoustic guitar at age 15. "I started playing in bars downtown before I could drive. I was fairly fearless." Her early influences included Tracy Chapman, Joan Baez and The Pretenders. In college she studied classical guitar. She also studied upright bass. But she continued to compose and perform on the acoustic steel-string and classical guitars. In addition to her music, in college she studied medicinal botany (including a field study program studying plants in Mexico), ethnobotany (how plants are used in all parts of our lives) and environmental studies.
Both Bruce and Julie studied at the Old Town School of Folk Music in Chicago (intense courses taught by top musicians). They began playing music together in a folk-rock group called Aunt Betsy (Bruce on guitar and Julie on bass) that performed full-time for four years. "It was the exploratory years," explains Bruce. "We were like six hippies touring in a van and living on a Native American reservation in Washington State. We were influenced by Joni Mitchell, Cat Stevens, Paul Simon and Leonard Cohen." But Bruce and Julie also began composing instrumental music. The first one they wrote they called "Patchouli" which became Julie's stage-name and eventually the name of their own songwriting duo when they left Aunt Betsy. In 2008 they founded Terra Guitarra.
Bruce, who has painted all his life, began a special series of guitar-based paintings for the artwork on the first Terra Guitarra album, and his art has continued to be featured on all their subsequent CDs. Hecksel's painting has expanded and evolved leading to art shows and exhibits, and sales of originals and special prints (details are at the group's website).
Hecksel says, "Gathering around a fire is a long-held ritual of all ancient cultures, a communal experience bringing people together to a place where they feel safe, a time of sharing, the focal point of the day. Often music was part of the celebration. We want our Firelight album to be an extension of that experience."
---
Discount restaurant coupon codes
Dining coupons 60% off or more! Restaurant.com has a national directory of more than 18,000 restaurants. Search by state, city, neighborhood, zip code and cuisine type to find the perfect restaurant and gift certificates for savings in hundreds of cities across the US. Every week, Restaurant.com has a special dining promotional code for further discounts on each gift certificates. Save on Breakfast, Lunch and Dinner at Restaurant.com
Groupon coupons online
Groupon features a daily deal on the best stuff to do, see, eat, and buy in a variety of cities across the United States and has been recently featured on the Today Show, Good Morning America, and named the #1 Hottest Website for 2010 by Fox Business News! A deal a day great things to do, eat, see, & buy in your area. Shop Groupon.com today!