Johannes Linstead, one of the most popular Latin-guitar performers in the world, created his latest recording, Midnight Rhumba, to serve as an exotic musical escape from day-to-day-life. "Nowadays we all have a lot of pressures in life," explains Linstead, "so I wanted to put together an album that serves as a celebration, as a way to uplift people."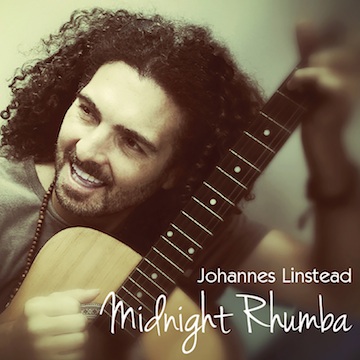 Linstead lives part of each year in the Dominican Republic, where several tracks of the album were recorded.
He notes, "When you visit the warmer climes, especially all the Latin countries on both sides of the Atlantic, you encounter people who visit these places specifically to escape their regular lives, to enjoy an exotic and relaxing locale, and to renew a festive spirit. On this album I tried to musically capture these special feelings – the memory of visiting a tropical island, sitting at a European sidewalk café to people watch, listening to Latin music on the radio, or gathering with musicians, singers and dancers for a late night fiesta."
Known for his fiery and passionate Latin-style acoustic-guitar playing, he composes beautiful melodies and then arranges them into an ensemble sound featuring an array of talented international musicians which gives the music a universal, world-wide appeal.
Linstead's music, including the new Midnight Rhumba, is available on the Earthscape Media label in CD format (distribution by SONY-RED) and can be found at most retail stores; and as digital downloads via online websites like Amazon, iTunes, eMusic and countless others. Linstead also has eight previous best-selling albums under his name -- Sol Luna Tierra, Kiss the Earth, Guitarra del Fuego, Zabuca, Mediterranea, Cafe Tropical, Mistico and Tales of a Gypsy. More information is available at his website, johanneslinstead.com.
Most of his albums have risen high on the prestigious Billboard New Age sales chart and are regularly Top 10 on various radio airplay charts. Linstead's last album, Tales of a Gypsy, went to #3 on the Zone Music Reporter international Top 100 radio chart, was #27 (out of 2,300 albums) on the ZMR Top 100 albums of the Year ranking, and was #1 on both the eMusic World Music Chart and the Amazon International Latin Sales Chart. The previous recording, Mistico, also went to #1 on the eMusic World Music Chart and was the winner of "Best World Album" and "Best Acoustic Instrumental Album" at the ZMR Awards. Linstead's albums have won dozens of other awards over the years, and as a musician Linstead has received many accolades. For example, at the time of Cafe Tropical, Linstead won "Guitarist of the Year" in the Canadian Smooth Jazz Awards and was named "World Artist of the Year" at The Ontario Music Awards. Linstead also has played many prestigious concerts including the Catalina Jazz Festival in California and the Kettle Moraine Jazz Festival in Wisconsin. He also has become an "Influential Artist" with the Yamaha Corporation of America, the largest musical instrument manufacturer in the world, endorsing their classical line of guitars.
Linstead's music receives acclaim and strong sales from both the smooth jazz and new age music audiences, but it is best described as world-fusion. While his guitar-playing has a Latin focus, Linstead is inspired by music he has heard all around the world, and he regularly works with top musicians from many different countries. "I enjoy creating music with musicians who bring different instruments, sounds, cultural experiences and perspectives to this art-form," explains Linstead. "I am not particularly fond of the concept of countries, borders and the separation of people. I want my music to be a way to cross those barriers because of its universality."
On Midnight Rhumba, Linstead is joined by violinist Vasyl Popadiouk from the Ukraine (classically-trained, but adept at the gypsy style of playing learned from the Carpathian mountain people in his homeland), accordion player Jordan Abraham (he attended Berklee College of Music, his parents are from India, and he has studied both the traditional Jewish style and the gypsy style of playing), acoustic guitarist Geoff Hlibka (on three tunes), drummer Anastasios Bigas (from Greece), and percussionist Max Alejandro Ventura (from the Dominican Republic) along with a few other guest musicians.
The album begins with the lovely melody of "L'Italiana," the accordion giving the track the feeling of an intimate café in Italy. Linstead says he wrote "Radio Argentina" because "I have always loved tangos." "Pineapple Grove" grew out of a trip to Hawaii ("I put a ukelele on that one to hint at a Hawaiian sound."). He included the ballad "Siempre (Now and Forever)" because "every album needs something sweet and romantic on it." "Balzac's Brew" not only recognizes the French writer from the early 1800s, but also the Parisian gypsy swing-guitar style of Django Reinhardt. Linstead touches on the mystical with the tunes "Angel on my Guitar" ("I often feel my music is divinely inspired"), "The Oracle" ("There have been countless examples in history when prophecies have come true"), and "Bewitched" ("Much of the Caribbean culture has early roots of voodoo and African witchcraft, and hand drums have played a big part in this").
The album explores the many nuances of the Spanish guitar from the traditional to the contemporary, from fiery and passionate to soulful and beautifully melodic. Linstead demonstrates on Midnight Rhumba why he is recognized internationally as one of the most popular and best-selling guitarists and composers in the world-fusion field. Once again he melds far-ranging influences and global styles into his own signature sound.
Growing up in Canada, Johannes was exposed to other cultures all his life. Both of his parents came from Europe (his father from England and his mother from Germany). He grew up listening to classical music as a child and had admiration for Mozart, Beethoven and Bach. When he was a child, his father, who passed down a passion for Latin culture, took the family on numerous trips to places like Spain, Mexico, South America and many islands in the Caribbean. Johannes got a guitar when he was eight and took lessons for a few years. At first he gravitated toward classical guitar, but when he became a teenager he was exposed to flamenco and Latin-styled guitar as well as pop, rock, folk and jazz which broadened his musical outlook. He joined his high school's jazz band and won the "Musician of the Year" Award. "I became interested in the different intricacies and beauty within each style. I listened to a wide variety of guitarists ranging from Al DiMeola and John McLaughlin to Paco de Lucia and Randy Rhoads." Linstead played in a rock band for a few years.
"During my travels I discovered some of the possibilities of Latin guitar in contemporary instrumental music. Because I enjoy the art of dance I was influenced by many Latin styles like salsa, merengue and cumbia, especially the rhythms and the horns. I tried to emulate the horn solos on my guitar. Early on I started performing traditional Spanish and Latin pieces along with my own compositions. I put together a band with percussion, drums and bass. The music went over well so I recorded my first CD and started to play festivals." On-stage Linstead became known for his energetic performances and the fiesta atmosphere his music creates.
During his musical journey, Johannes also was on a spiritual path. He has studied and taught kundalini yoga for many years. "Music plays a part in kundalini yoga, so it is a good fit for me. I am not just a musician, but also a spiritual being who tries to help others. I want to see more and more people find a unifying energy and connect spiritually with other human beings." He founded the Divine Earth Organization (divineearth.org), an online humanitarian community where members post information about spirituality, health and even world politics. The philosophy of the organization is that in order to attain a happier and healthier world, people must first identify and overcome any conditions that undermine their ability to find inner peace. Linstead also emails a "Weekly Wisdom" newsletter "to guide people towards their own inner wisdom."
According to Linstead, "My music is inspired by my spirituality, by cultures from all over the world and by people's everyday triumphs over hardships. I have become interested in what music can do to help create universal connectiveness."
---
Discount restaurant coupon codes
Dining coupons 60% off or more! Restaurant.com has a national directory of more than 18,000 restaurants. Search by state, city, neighborhood, zip code and cuisine type to find the perfect restaurant and gift certificates for savings in hundreds of cities across the US. Every week, Restaurant.com has a special dining promotional code for further discounts on each gift certificates. Save on Breakfast, Lunch and Dinner at Restaurant.com
Groupon coupons online
Groupon features a daily deal on the best stuff to do, see, eat, and buy in a variety of cities across the United States and has been recently featured on the Today Show, Good Morning America, and named the #1 Hottest Website for 2010 by Fox Business News! A deal a day great things to do, eat, see, & buy in your area. Shop Groupon.com today!