Nadaka & Gopika, on the new album Surya Chants of Light, create their own unique world-fusion music by mixing traditionally-sung vedic mantras with the sounds of a specially-designed guitar from India.
UNESCO (The United Nations Educational, Scientific and Cultural Organization) in 2003 officially proclaimed the tradition of vedic chanting "a masterpiece of the oral and intangible heritage of humanity." What makes Surya Chants of Light unusual in today's music marketplace is that these classic, traditional mantras are carefully sung in the original sanskrit, following the exact pronunciation and specific intonation that has been passed down in the culture of India for thousands of years. At the same time, the accompanying music has a contemporary ambience because it subtly combines traditional Indian-raga elements with the performance of Western-style guitar as well as a variety of instrumentation created on guitar-synth.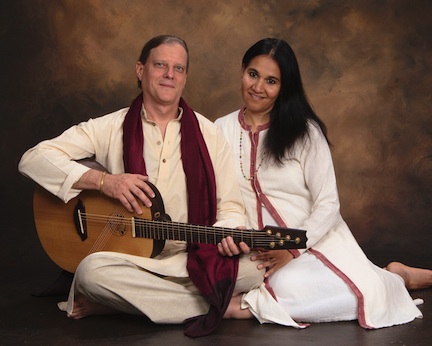 This is the first CD as a duo by Nadaka & Gopika (nah'-da-ka and goh-pea-ka). Nadaka has been a performing and recording artist for the past three decades and he has eight previous albums as a solo artist or collaborator, and all of those world-fusion recordings have been highly successful in India.
Gopika studied traditional sanskrit mantras in their original ancient form for four years at the Krishnamacharya Yoga Mandiram, and she went on to become a teacher of chants for another eight years in South India, also offering workshops on the power of vedic sounds at significant world conferences.
This husband-and-wife musical duo has toured in India, Europe and North America, and Gopika has made select previous appearances on recordings by Nadaka. Their union in life and music is distinct in the way their voices merge in absolute unison on their duet album.
More information about Nadaka & Gopika is available at their websites (ragamantra.com, nadaka.com and gopika.com). Their Surya Chants of Light album and Nadaka's previous recordings are available as CDs and digital download tracks from online sales sites such as CDbaby, Amazon, iTunes, eMusic, Rhapsody and many others.
"These mantras carry deep hidden truths," explains Gopika. "When chanted in their original form they can stimulate the higher mind, rejuvenate the body and bring a sense of infinity to the soul. The magic lies in reaching beyond the mental sphere to touch a realm where these sound-syllables and their intonation combine to create a transcending experience. We respect the power, inherent beauty and vibrations of these mantras. Vedic mantras are pure sounds that were first heard by the Rishis in ancient times. The chants carry a powerful energy that has been passed down over millenniums as seeds of divine knowledge creating an eternal bridge from the past to the future. These mantras remain a timeless expression of our human aspiration to transcend and experience a sense of oneness with the universe."
Nadaka adds, "Our goal is to create music that uplifts and awakens with the hope that our creation resonates with each listener. We have integrated these chants into a contemporary musical setting inspired by our search to connect these ancient sacred sounds to our lives in the present day."
Surya means sun in sanskrit and that is the theme of the album -- the sun, sunlight and our inner light. Surya Chants of Light contains eight songs ranging from 4,000-year-old vedic mantras to more recent Indian hymns, some of which are a part of everyday life in India. All were chosen for this album because of their connection to the sun and light.
"Suryaya Swaha" begins with a musical prelude that sets the musical tone of the album, like a birth into the world. Then the song starts the powerful vocal call of the "Beeja Mantras" (seed sounds) that are said to resonate with the energy of the sun. This is followed by the soft Suryaya Swaha vocal which Gopika calls "a traditional invocation to the elements of fire and light." "Arogya Mantra" is a mantra sung by Gopika in its original ancient form. "It connects each part of the body, mind and spirit to its original source that is light as a call for integral health." Here Nadaka's guitar has a very acoustic feel, weaving gentle harmonies into the piece and ending with an extended guitar solo that is reminiscent of soft Celtic melodies.
"Gayatri Mantra" is an introduction to the energy of the sun and used for seeking the light of knowledge. The "Gayatri" has often been heard in works by other artists on new age music albums. However, here is an elaborated version of this chant as it was originally taught to the initiate as a complex sequence of sounds and syllables offering a way to enter deeper into the vibration of the mantra. "Navagraha" is a combination of mantras recognizing the energy balance between the nine planets and the sun that is set to an uplifting tune with guitar and tabla. "Suryashtakam" has eight verses dedicated to the sun written by 16th Century poet Shankaracharya and set to a classical composition by Gopika. This piece also features an electric/synth guitar solo that weaves throughout along with various percussion loops and atmospheric sounds.
"Dakshinam" features Nadaka playing deep traditional sounds on his "Raga Guitar" later merging with vocals by Nadaka who overdubbed multiple vocal parts to create the atmosphere of a group of Brahmins (priests) chanting in a temple. "Surya Namaskar" uses 12 sanskrit names of the sun chanted as a salutation to our closest star. This piece is traditionally chanted in synchronization with the 12 yoga postures to the rising sun. "Chidakash" is an instrumental finale which Nadaka says "represents going beyond the human world to another place, another realm. Since everything, including ourselves, is made of stardust or sun particles, the final step is to return to that state and merge back into the light."
Four guest musicians make appearances on this album: Karthick Iyer on violin (track 7), Ganesh Basavaraj on tabla and percussion (track 5), R. Rajkumar on ghatam (track 2), and Keshava on tabla (track 4). Keshava (Gopika's son) was 10 years old at the time of recording, but he was already a seasoned musician who played the tabla since age two. When he was seven, he performed center-stage surrounded by a thousand percussionists from all over India at the 2010 opening ceremony of the Common Wealth Games (broadcast on television internationally).
Most of the musical accompaniment on the album was created by Nadaka on his "raga geet-tar," so named because "geet" in sanskrit means song and "tar" is string ("the singing strings"). It is a one-of-a-kind, guitar-like instrument that he designed and built so that he could play it like a standard acoustic guitar (six main strings), or create the sounds of several traditional Indian instruments. The geet-tar has two chikari strings used to sound like the ancient veena (ancestor to the sitar), 13 harp strings generating the sound of a swara mandala (similar to a harp or zither), and four drone strings to capture the feeling of the tanpura. The geet-tar also has a scalloped fret-board (allowing more bending of the strings) and moveable frets to increase versatility of more notes (microtones between the fixed notes of Western music) as needed for raga music. Nadaka also plays the electric guitar-synth that he uses both in recording and in concert to generate a rich variety of sounds such as piano, mellotron or bass.
Nadaka was born and raised in Quebec, Canada, and began playing various instruments at an early age before settling on guitar when he was 11. He decided to travel around the world when he was 16 and ended up in India where he lived for the next 30 years, primarily in the international community of Auroville that was founded in pursuit of deeper consciousness. Nadaka learned to play numerous Indian string instruments. He became an active member of India's contemporary musical community, recording and performing with many top Indian musicians such as A.R. Rahman, Ganesh-Kumaresh, Vikku Vinayakram, Selvaganesh, Shivamani, and The Basavaraj Brothers. Nadaka's popular world-fusion recordings include Straight to Your Heart (with Ganesh Kumaresh and Vikku Vinayakram), Celebration, Living Colours, The Lotus Trilogy (a three-CD set) featuring the Tibetan monks of the Ganden Monastery and many other renowned Indian artists, Live in Paris (with The Basavaraj Brothers) and Medley (a selection of earlier released and previously-unreleased tracks from 1992 to 2008).
Gopika was born in Mumbai, India, the daughter of well-known artist and patron of the arts Prafulla Dahanukar and grand-daughter of Kesarbai Bandorkar (a well-known Indian classical singer). Hailing from a family of singers, Gopika grew up taking lessons in Hindustani classical singing and was later drawn to the study of sanskrit mantra chanting. She lived more than 16 years in South India at the Sri Aurobindo Ashram and Auroville where she met Nadaka. Her multi-dimensional persona has also long pursued other artistic endeavors such as visual art and photography. She has had several group and solo exhibitions at galleries in Mumbai, Auroville, Singapore, London and Portland, USA. Currently, as a synthesis of her research in visual form and vedic sound, she is creating immersive art installations that are meditative in nature using cut paper, light and sound as her medium. She says her artistic goal is "to create both art and music that brings the viewer to an inner state of quiet."
Nadaka & Gopika presently live in Portland, Oregon. They perform concerts and offer workshops while continuing their artistic journey through art and music. In a joint statement they say, "We have combined our talents to create music that communicates a sense of peace and stillness to our audience. Drawing inspiration from the soul of India that we cherish in our hearts, we make music that carries tradition to a new dimension. In a sense this simply reflects our experience of the deeper aspects of sound and vibration that surround us all."
---
© 2014 EntertainmentMagazine.net. Entertainment Magazine network. All rights reserved.