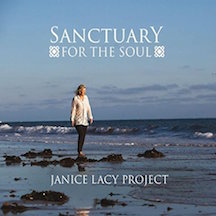 Regarding the gentle, melodic, instrumental music on the debut album Sanctuary for the Soul by the Janice Lacy Project, Lacy says, "I want my music to serve as a sanctuary, a refuge, a place of safety, peace, healing and joy, where listeners can go when they need to escape from the pressures and stress of the world around them."
Photo left: Janice Lacy
Regarding the gentle, melodic, instrumental music on the debut album "Sanctuary for the Soul" by the Janice Lacy Project, Lacy says, "I want my music to serve as a sanctuary, a refuge, a place of safety, peace, healing and joy, where listeners can go when they need to escape from the pressures and stress of the world around them."
For this recording, Los Angeles-based pianist and composer Janice Lacy joined forces with several of Southern California's top musicians -- pianist and keyboardist Rob Mullins (who also arranged and produced the album), cellist Jeness, bassist Larry Antonino, and drummer and percussionist Tony Braunagel.
"It was a joint effort, so we decided to call the group the Janice Lacy Project," explains Lacy. Their album collaboration contains 14 tunes, all composed by Lacy, including a couple of solo piano pieces, numerous piano-cello duets, and a few numbers with the sound augmented by bass, drums, percussion or synthesizer.
The music has strong appeal to lovers of new age music as well as the genres of neo-classical and gentle-jazz.
Sanctuary for the Soul is available as CDs and digital downloads at a variety of online sales sites including CD Baby, Amazon, and iTunes. Samples of the music may also be heard at Lacy's website (JaniceLacyMusic.com).
Lacy studied classical music for many years, including eight years of classical repertoire and theory with Joe Weisberg (Erich Leinsdorf, Frank Murphy), and in-depth analysis of the musical scores for many classic operas with members of the San Francisco Opera Company.
With her producer Rob Mullins, she also studied jazz and improvisation. Rob Mullins, in addition to being a multi-genre producer, is an esteemed Grammy-nominated jazz recording artist with 30 albums.
He has worked with Hubert Laws, The Crusaders, The Rippingtons, Dave Grusin, Branford Marsalis, Kirk Whalum and many other top jazz acts. Jeness has toured the world performing with James Taylor, Kenny Loggins, K.D. Lang and the La Scala Quartet.
Larry Antonino, a member of Pablo Cruise, has recorded with Barry Manilow, Ronnie Laws, Air Supply and Shelby Lynne. Tony Braunagel has worked with Bonnie Raitt, Robert Cray, Taj Mahal, Bette Midler and Eric Burdon, among many others. Consulting producer Greg Scelsa also is a Grammy-nominated artist (Greg and Steve).
Sanctuary for the Soul begins with the piano-cello duet title track. Lacy explains, "Deep down we need to feel safe and have a place to go when life's storms come along, and for me that place, that sanctuary, is music."
The slow, delicate "Take Care of My Heart" comes from Lacy's realization that "the heart is fragile and easily broken, so be careful." The upbeat "Everything's Alright" is a positive solo piano piece ("Life is good if you have love in your life and someone to count on"). She continues the theme of love with "Lovers' Flight" ("when you are in love you can be so happy you feel like you are flying").
"Through The Shadows" was composed by Lacy about "how hard it is to find your way through the trials and tribulations of life, especially when you lose a loved one."
Similarly, "December Goodbye" was composed in memory of her father. Lacy says the composition "Refuge" is about how "spiritual life and religious beliefs can be a place of refuge for many people."
"Prayer" was "influenced by all the spiritual music I heard in church over the years inviting us to pray."
The music of "Sunrise Dance" came from "when you wake up in the morning very positive about the day's potential."
Lacy says, "I live a mile from the Pacific Ocean and I get inspired by the beautiful scenery and coastline around here so I wanted to write about it and I came up with 'Shimmering Ocean' and 'Crystal Harbor'."
She penned "Jim's Waltz" as "a gentle dance of love for my husband." Exhibiting a more ensemble and jazzy feel are "Full Moon" ("One night when Rob was in the studio working on this one there was a huge, bright moon hovering over Los Angeles") and "Tell You That I Love You" ("When you love someone it is important to tell them once in awhile").
"The collaboration with Rob Mullins and the other musicians was fantastic," states Lacy. "I have always loved cello, and especially the interplay between piano and cello because it is so warm and full of feeling."
Janice, at age three, got her first piano lessons from her mother, and they often played duets. When she was six, Janice started formal lessons with a teacher and began learning to read music, and by ten was seriously studying Chopin, Rachmaninoff and Beethoven.
She began composing music when she was 15. "I have always enjoyed composing more than performing. Melody has always been my thing. A good melody is the foundation, the keystone for me."
Lacy explains that "I have always loved analyzing music, figuring out what makes it beautiful, following the movement of the chords and finding which progressions are the most emotional, and learning how you can instill drama by changing the key or the groove. I remember in high school tearing Beethoven pieces apart to see what chords he used and then charting it all out so I could really see how he developed his music. I enjoy exploring the technical aspects of music theory and understanding why certain things work."
In addition to classical music, Lacy was influenced when she was young by popular and jazz music, and the folk music that was indigenous to her native Ohio. Lacy grew up in Columbus, Ohio, and got her BA degree at Miami University in Ohio and an advanced degree at Ohio State University.
"When I was in college I could not pass a practice room with a piano in it without going in and playing." Lacy's close friend was a fiddle-player, so she taught herself how to play dulcimer so they could play folk, bluegrass and "old-timey" music at folk festivals.
"I had a lot of different musical experiences over the years." She remembers, "It seemed like every musical act of that era came to perform and I went to many concerts and saw artists such as Frank Zappa, Gordon Lightfoot, Bette Midler, Peter, Paul and Mary, John Mayall, Eric Clapton, Yes, Earl Scruggs and lots more.
I liked R&B from Stevie Wonder to Luther Vandross. I deeply admired Burt Bacharach's work. I also started going to a jazz club in Cincinnati, and began listening to artists like Keith Jarrett, Oscar Peterson, and Chick Corea and Return to Forever. I have always liked a wide diversity of musical styles.
Later I went through a period of studying the music of operas because it is very lyrical and melody-oriented and dramatic because it helps tell the story, and I learned how to incorporate some that into my own music."
Lacy was also influenced by new age pianists George Winston, David Lanz, Jim Brickman, and David Nevue, and by Will Ackerman's work. "I was inspired by these artists, and realized as I composed that I kept returning to the new age genre as a way to express myself."
"I wrote the music for Sanctuary for the Soul over the past few years," states Lacy. "It was sort of an explosion of music for me. I felt I threw off the restrictions of playing strict traditional classical music which stresses interpretation and technique. I embraced the freedom and improvisation of new age and jazz. I felt free to express however I felt when I sat down at the piano which meant the music might be happy or sad or introspective or spiritual. My goal was to be able to impart those emotions with my melodies, and also have the music be gentle, relaxing and peaceful, to sooth and nurture the listener."
---
Discount restaurant coupon codes
Dining coupons 60% off or more! Restaurant.com has a national directory of more than 18,000 restaurants. Search by state, city, neighborhood, zip code and cuisine type to find the perfect restaurant and gift certificates for savings in hundreds of cities across the US. Every week, Restaurant.com has a special dining promotional code for further discounts on each gift certificates. Save on Breakfast, Lunch and Dinner at Restaurant.com
Groupon coupons online
Groupon features a daily deal on the best stuff to do, see, eat, and buy in a variety of cities across the United States and has been recently featured on the Today Show, Good Morning America, and named the #1 Hottest Website for 2010 by Fox Business News! A deal a day great things to do, eat, see, & buy in your area. Shop Groupon.com today!