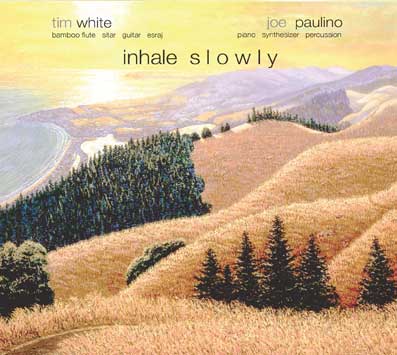 Since breathing is the first step of life, and slow breathing the beginning of most meditation, an important musical recording has been created to promote slow and conscious breathing as the foundation of the path toward inner peace.
The musical duo Tim White and Joe Paulino crafted the world-fusion instrumental music on their album inhale slowly not only as entertainment, but also specifically to facilitate relaxation, meditation and healing.
"The title is simply a gentle, worthwhile suggestion," says Paulino, "because the starting point for virtually every form of meditation is slowly inhaling a deep breath.
The moment you do that you have already begun to relax. Our music can serve as either a secondary point of concentration that allows you to do other things while listening, or as warm foreground sounds with interesting textures, tones and instrumentation. Either way, its purpose is to help you do whatever you attempt in a deeper, more fulfilling way."
The inhale slowly recording is available at inhaleslowly.com, whitegatesmusic.com, amazon.com (Inhale Slowly
) and CDbaby.com.
The mostly-acoustic, cross-cultural music features Tim White on wood-flute, guitar and two traditional instruments from India -- sitar and esraj (a bowed string-instrument), as well as Joe Paulino on piano, synthesizer, Balinese gong and, on one tune, Native-American frame-drum.
The project's musical roots are influenced by the classical ragas of Northern India, music that White has studied and taught for the past three-and-a-half decades. The background raga-esque drone, on this project, was created mostly by retro-classic analog synthesizers ("for their calming resonance," says Paulino). While these original compositions do not follow exact structures of traditional ragas, some of the improvisational elements within a framework are similar. The result is music that is restful and ambient while still full of melodic beauty.
The music's therapeutic benefits derive from its beginnings as accompaniment created to assist spoken-word guided-meditations led by distinguished meditation teachers Patricia Ellsberg, Dr. Khaleghl Quinn and Heidi Hans Scott, all of whom stress breathing techniques and the sacred importance of breath.
From that beginning, the music was more fully developed, with added instrumentation, melodies, and new arrangements, to create a new work that truly stands on its own. The recording is ideal for meditation, massage, yoga, therapy sessions and what White and Paulino refer to as "Road-Rage Neutralization."
"The music moves along at the relaxed speed of a slow breathing cycle," explains White. "We consciously went about creating musical phrases that went with inhale and exhale rhythms. One of the reasons the flute is the main voice on the recording is because it is so closely related to breathing. The idea of meditational breathing inspired us to pursue the goal of producing music that will help people slow down, relax their breathing process and escape for a time from our hectic world."
There are five long tunes on the recording ranging from the gentle breath-oriented title track "Inhale Slowly" to "Island Pulse," which is set to a heartbeat rhythm from the large frame-drum. "Dr. Quinn called her various meditations 'islands' and we liked that imagery," explains White.
"Morning Chai" is a beginning meditation and refers to a popular boiled drink of black tea, milk, sugar or honey, and various spices. "With 'In-Joy' we tried to create a path to a state of joy," Paulino says. "This music came from our work with Patricia Ellsberg, who focuses on taking time to be joyful, to be into joy, to enjoy the moment." "Hidden Oasis," which is dedicated to the Two Bunch Palms desert health spa retreat in Southern California, is meant to capture that sort of restful, restoring experience ("a sonic immersion equivalent to soaking in warm natural mineral waters," states Paulino).
Tim White and Joe Paulino, who are based in the San Francisco Bay Area, bring their own unique talents to this project. They went to high school together, and re-connected in recent years. During their school days Tim played guitar in a jazz-rock-fusion band and Joe served as the recording engineer preserving the group's live shows.
"I still have those tapes. Their music inspired me to also pursue music," says Paulino, who has his own studio where inhale slowly was recorded. White also has served as an engineer on many musical projects. In addition, both have individually done extensive commercial work – Paulino as a voice actor, announcer and narrator, and White as an instrumentalist.
White began on guitar in his young teens, played in blues, rock and jazz bands, spent a year performing in Italy after high school, and worked for concert promoter Bill Graham for ten years. White spent 25 years studying sitar with Ustad Ali Akbar Khan, one of the acknowledged masters of North India's classical music. At the Ali Akbar College of Music in San Rafael, California, Ali Akbar awarded White with a prestigious Vadya Alankar Certificate. In addition to Ali Akbar, some of White's other teachers there included Pandit Jasraj, Krishna Bhatt, Vilayat Khan, Zakir Hussain and Gnan Prakash Ghosh.
White also earned his Bachelors degree at the University of California at Berkeley, and went on to get his Masters degree in electronic music and recording media at Mills College in Oakland. White has taught at the Ali Akbar College, University of the Pacific, San Francisco City College and Diablo Valley College. White has a previous duo album with guitarist Jack Gates, Morning Song Evening Song.
White has performed with many musicians from India (including Ali Akbar Khan) as well as a variety of artists in the genres of rock, jazz and avant garde including Terry Riley, Fred Frith, Anthony Braxton, Daniel Kobialka, the Good Sound Band (with Loren Rush and Janis Mattox), and Music as a Second Language with Sylvia Nakkach.
White also has performed musical accompaniment for many major classical dancers from India, hosted a radio show featuring the music of India, and wrote and recorded music for the animated film feature "The Golden Antelope." White has broad influences that include Ali Akbar Kahn, sitarist Nikhil Banerjee, B.B. King, Julian Bream, Miles Davis, Debussy, Stockhausen, Bartok, Fluxus, Lamont Young and many others.
Paulino's career as a performer began with a television appearance on "The Red Skelton Show." Developing at a young age as an actor, singer and tap-dancer, he also studied at the American Conservatory Theatre in San Francisco. Paulino is a past president of the San Francisco Branch of the Screen Actors Guild, and has been seen or heard in movies that include "Super-8," "Minority Report," "Fearless" and "Howard the Duck."
Paulino was the first announcer when the University of San Francisco's KUSF signed on the air. Since then, he has enjoyed considerable success for 30 years as a voice talent. He's been on spots and in sessions with Dana Carvey, Peter Coyote, Bob Elliott (of the comedy team Bob and Ray), Native American comic Charlie Hill, and sporting greats Arnold Palmer, Chipper Jones and Peyton Manning; and was in the cast that re-created the famous "War of the Worlds" broadcast for its 50th anniversary (appearing with Jason Robards Jr., Steve Allen, Hector Elizondo, and members of The Firesign Theatre) among others. He is a staff announcer at KGO-TV - the ABC affiliate in San Francisco, and has voiced an extensive list of ad campaigns and video games.
In the world of music, Paulino has been the pianist for the theatrical improv group Flash Family, produced his own satiric one-man show, "The Only Thing You Can Change is Your Mind," and has performed spontaneous composition for many years with These Are Not My Hands.
In addition to his work on piano and keyboards, Paulino sings in the '60s flashback rock band The Vanilla Extract, and plays drums with local jazz groups. His widely varied influences range from Miles Davis, Joe Zawinul and John McLaughlin to Steven Halpern, Paul Horn, Oregon, Brian Eno, Steve Roach, Richard Burmer, Frank Zappa and more.
"It has been said that our brain is often air-deprived," Paulino says. "This must have some effect on our decision-making process. Slow, deep-breathing is an elegantly simple way for anyone to improve their life. inhale slowly was designed especially to help the listener slow down, set their stress aside and connect with a sense of inner peace."