"Our biggest quest in life is identifying a personal dream and then fulfilling that dream, making it a reality and living it," says keyboardist Carmen Rubino, who explores this universal journey on his debut album, Aquarian Dream.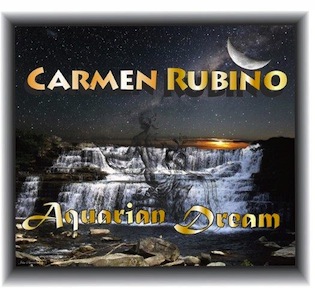 Rubino stresses that everyone's ambitions for the future are different. "The important thing is to find a road that feels right and leads toward your destiny, and then to make the journey special because it is just as important as the destination."
Rubino – who has been influenced throughout his music career by progressive-rock, classical, jazz-rock-fusion and new age music – has created a large-scale symphonic sound that captures elements of all of those genres. This music's rich tapestry of auditory delights includes piano and electronic keyboards as the primary instruments, but includes a dazzling array of sounds including a large string-section, flute, harp, French horn, percussion and various other orchestral instruments as well as the judicious use of birds, wind, thunder and crashing waves.
---
---
"Even though I want the music to have universal appeal and to serve each listener as a soundtrack for the journey they are on," explains Rubino, "I also had certain distinct thoughts in mind when creating it. I was thinking of someone born under the sign of Aquarius that provided me a vision from their dream on September 24, 1976. For on this day in time, my life would be forever changed, and would lead my spiritual journey, where many years later, I would discover the connection. The long awaited vision takes place in Kansas, right in the center of The United States, the heartland. It's sort of like 'Wizard of Oz.' You may also capture the Aquarian Dream concept in great detail from the movie 'Somewhere In Time'."
"This music is about finding your place within your spiritual soul, your life, and a person to share your dream with. Along the way there will be trials and tribulations, but if you stay the course, you will be rewarded. The journey may take you clear across the country to a coast and an ocean, or even farther to foreign lands, perhaps to some mystical places, but when you look up at the stars at night, you know you are on the right road."
The Aquarian Dream album opens with a short prelude, "Transcendence," because, Rubino explains, "Wherever you start, you have to transcend that place and move on. Part of the journey is a spiritual quest." This leads to one of the album's highlights, the nearly ten-minute "Infinite Hearts Desire," with its multiple sections. "I wanted to give it an uplifting mood because desire has to do with passion, whatever it is you want – love, an accomplishment, a better or different life path." Rubino describes "Tears of Joy" as "one of those moments when it all comes together in your life and you are so happy that your emotions pour out and you can't hold back the tears."
"Spirit of Our Reflection" is a slow, deep, emotional piece that captures being so close to one another that, "you see yourself in them and they see their self in you." "Perfect Harmony" represents a symbiotic state of being. The tranquil and mesmerizing sounds of nature, provide the perfect setting for one another. "'Christmas Wish' has the warmth of giving your heart, which can be found in the music. After unwrapping the present, a music box is revealed." "In Our Place" can be interpreted as a physical place, says Rubino, or "that special territory shared by one another, a place that we created, a place that we can call our own." The romantic feelings continue on the track "How I Love You" ("I tried to musically depict the various emotions and feelings of love.").
Another major opus on the album is "Father," which journeys through several moods and changes over the course of more than 12-minutes. "'Father' is also a tribute to a Kansas man who is very much loved by his family. All the great memories, and traditions, will always be observed." The spiritual aspect continues on the next track, "Sweet Angel Return," which is about "the force that gives you guidance to find the place where you belong." The music of "Sacred Vows," states Rubino, "is a promise to stay true to yourself, and to one another. A transformation takes place in the music, serving as confirmation of our destiny." The recording ends with the majestic title track, "Aquarian Dream," containing more than 13-minutes of music that "sums up the journey, celebrates the dream and allows time to enjoy the fulfillment attained."
Rubino was born and raised in Buffalo, New York, and has had a strong love for music all his life (his mother told him that before he could walk he would crawl up close to the stereo speaker to hear the music more carefully). As a teenager, Carmen became entranced with progressive-rock including Emerson Lake & Palmer, Yes, Genesis, the Moody Blues and Kansas, to name a few. "But two of the primary musical influences in my life have been Jethro Tull and the band Renaissance. Ian Anderson of Jethro Tull was a huge inspiration and gave me a real love for the sound of a flute. Ian also has been inspirational in developing me as a songwriter and composer. Once when I was practicing piano at the University of Buffalo, a woman told me my original music reminded her of Renaissance. The next week she gave me three of their albums: Prologue, Ashes Are Burning and Scheherazade. I instantly fell in love with their music. These musical acts represent a life-long love affair for me, and they inspired me to want to write more and more music." Rubino's musical education through recordings continued with classical music. "I listened to a vast array of classical music, and especially loved anything from the baroque period. My favorites would have to be Bach and Beethoven. Beethoven's 'Moonlight Sonata' has always been particularly moving to me." Rubino's inspirations also broadened to include a variety of jazz-rock-fusion artists such as Chick Corea, Stanley Clark, Jean-Luc Ponty and Al DiMeola. In more recent years Rubino has explored the world of new age music and found Yanni and Secret Garden to be the most influential, but Rubino also has listened to a wide range of artists from Jim Brickman to the Trans-Siberian Orchestra, and styles from Celtic to modern-classical.
"When my father was born, his father bought a player baby grand piano for him, but, ironically, he never played the piano. My siblings took some piano lessons on it, but it did not get played much until I was ten and I started learning. When I was 16 I got more serious about my music and I started to compose." While still in high school, Carmen would hitchhike several times a week to the University of Buffalo which had a distinguished music school and a group of practice rooms with a Steinway piano in each one. Any time one of the rooms was free, Rubino would immediately jump in and practice his original music. "I would hear what the students there were practicing and I tried to copy what they were doing. I started honing my skills and learning music theory." Rubino also met with a music professor at Buffalo State College who "asked me to identify a series of notes that were played on the piano. I correctly identified them from across the room, and he stated that I have the rare gift of perfect pitch." He then encouraged Carmen to continue pursuing music composition.
After high school Rubino put together a prog-rock band, EKTRA, that only played original material. The group's name stood for "Eternity Keeps Time Reaching After." The band members consisted of John Barcelona on drums, Steve Schiavi on guitar, and Chris Noto on bass (the son of world-renowned jazz trumpet virtuoso Sam Noto). The band played at bars, restaurants and jazz clubs throughout Western New York State, and made several recordings. Rubino also performed solo over the years, at many different venues, and, at the urging of his lifelong friend, the legendary broadcaster Lenny Rico of Casa Rico, Rubino often improvised on piano.
"Improvising is my first step for composing. When I find a theme that I like, I start to explore it more thoroughly. Then in my studio I begin building upon it, arranging it and deciding what other forms of instrumentation would sound good developing that musical idea. I have recorded quite a variety of material, but I selected the music for Aquarian Dream because it fit together well and presents a consistent sound," Rubino explains.

"I wanted the music of Aquarian Dream to serve as a potential catalyst to encourage the listener to dream a vision for their life and future, to help them interpret that dream, and then to be available as the musical backdrop for this journey of life."
---
Discount restaurant coupon codes
Dining coupons 60% off or more! Restaurant.com has a national directory of more than 18,000 restaurants. Search by state, city, neighborhood, zip code and cuisine type to find the perfect restaurant and gift certificates for savings in hundreds of cities across the US. Every week, Restaurant.com has a special dining promotional code for further discounts on each gift certificates. Save on Breakfast, Lunch and Dinner at Restaurant.com
Groupon coupons online
Groupon features a daily deal on the best stuff to do, see, eat, and buy in a variety of cities across the United States and has been recently featured on the Today Show, Good Morning America, and named the #1 Hottest Website for 2010 by Fox Business News! A deal a day great things to do, eat, see, & buy in your area. Shop Groupon.com today!