Paz del Castillo, who has become one of the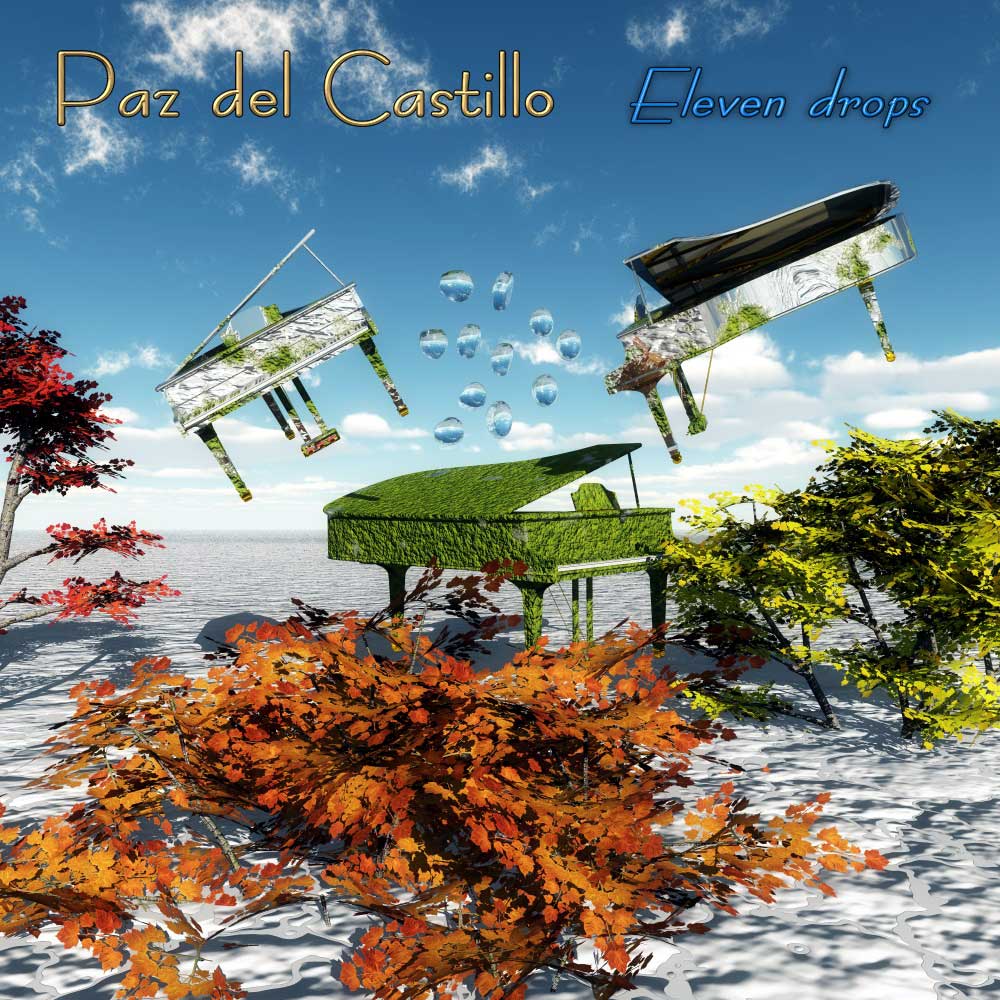 most important solo pianists in Spain during the past decade, titled her latest album Eleven Drops for two reasons -- each of the eleven original compositions represents a small drop or part of her personality, and the water imagery symbolizes her love of nature.
"Nature is one of my main inspirations. I enjoy and delight in all of nature, especially what is around me -- the sea, the river, the mountains, the little roads. It is a paradise in which I live. I love to take walks, breathe in the air and look at the beauty around me which gives me energy for life. I also enjoy gardening, watching my plants and flowers grow, and feeling the earth between my fingers. It helps connect me with our planet," explains del Castillo.
"On the cover of the album is an original exclusive painting by Michael Huygen with clouds and sky, trees and bushes, three pianos with vegetation on them, and, in the center, eleven drops of water. This art continues the symbolism of the importance of water. It covers much of Earth, makes up a large percentage of our bodies, and helps plants grow. Water makes the entire system of our planet work. Those eleven drops of water are a metaphor for both my music and all music, which is the universal language of humankind. Music is a powerful art-form that can touch people's hearts, convey thoughts and emotions such as beauty and love through sound, and inspire and unite people. Music, like water, helps life."
Del Castillo's Eleven Drops -- and her earlier recordings Moods for Piano and In Concert (Secretor del Corazon) -- are available in CD format and as digital downloads internationally through a variety of online shopping sites including Amazon, iTunes, CDbaby, eMusic and many others. For more information about Paz del Castillo, go to www.pazdelcastillo.com.
The classically-trained del Castillo had a previous album produced by renowned new age pianist Suzanne Ciani whom del Castillo also toured with in Spain. Throughout Europe, del Castillo has won numerous prestigious awards, performed at important concert halls, and studied at top music schools. In addition to her demanding career as a performer, composer and recording artist, she also teaches select students. Although primarily a solo performer on piano, del Castillo occasionally plays as part of a duo (either with a violinist or another pianist), a trio and a chamber orchestra. With a violinist, del Castillo has performed classical concerts in recent years featuring music by Bach, Chaconne, Mozart, Beethoven, Kreisler, Granados and Prokofiev.
The music on Eleven Drops was inspired by many aspects of del Castillo's life -- nature, family, friends, loved ones and music. Stylistically she writes memorable melodies and explores them with several variations on the theme, and uses an active left hand to present entwining counter-melodies and other motifs juxtaposed against the original melody line.
The album begins with "Latiendo" which, she says, stands for "the beating of my heart, our life force, and also greeting a new day after a long, cold night." "El Abrazo del Mar," according to del Castillo, "is like giving a big, long hug to my mother, and relates that strong maternal feeling to the ocean where all life originally came from." The tune "From the Beginning" represents starting life anew, after facing tragedy or loneliness, and recognizing the beauty of life again. "Cafe Espana" is dedicated to a cafe in Spain where del Castillo often went to listen to jazz concerts and where she eventually premiered much of her own music.
An improvisational piece about a calm river, "Improvisacion Sobre Las Aguas Tranquilas" is del Castillo's tribute to a river where she played in her childhood, and now she remembers walking next to it, listening to its sounds, sitting on the grass and watching the calm water. She says the composition "Lost in You" is "a love theme because I wanted to express the deep feelings of being in love with another person," and similarly "Mientras Duermes" ("while you sleep") is the pianist "remembering myself watching a lover sleeping, cherishing him and the tenderness of that time." Another gentle tune is "Nana Para Luis," a lullaby for her nephew, Luis.
Her feelings about nature influenced "Por Encima de los Acantilados" ("over the cliffs"). "At the beach I go to, there are beautiful and stunning high-cliffs where the sea hits the rocks, and I wanted to capture the feeling of walking down through big meadows and quickly down the cliffs to reach the sand." The short theme "Lo Que Siento" ("what I feel") is del Castillo "expressing the way I feel about life around me." She explains about the philosophical piece "Life Goes On": "When sickness or hard times come into our lives, we know it will eventually end and the sun will rise again on a new day."
Paz, who was born in Madrid and raised in Valladolid, started her music studies at the age of seven. "When I was a child I remember listening to all kinds of music -- classical, Spanish, Sixties and Seventies. My mother had Frank Sinatra records, and my oldest sister had vinyl of Elvis Presley, The Beatles, Carpenters, James Taylor, Alan Parsons Project, The Bee Gees and Abba. Later I started buying my own records -- Culture Club, Aztec Camera, O.M.D., Simply Red and many others. My first classical album was Beethoven's "3rd Piano Concerto" played by Aschkenazy. But I also discovered film music, soundtracks of great movies, and I started to love John Williams, Nino Rota, John Barry, Ennio Morricone and others. In the Nineties I began listening to Suzanne Ciani, George Winston, David Arkenstone and David Lanz as well as Celtic music."
Del Castillo graduated from the Conservatory at Valladolid with a Music Professor (teaching) Degree specializing in piano. In recent years she became the founder and president of the European Piano Teachers Association (EPTA). After graduation, she traveled to England to attend the Dartington International School of Music where she studied under professor and pianist Stephen Kovacevich. She returned to Spain and graduated from the Conservatorio Superior de Musica Teresa Berganza - El Escorial in Madrid (high-level studies under professor Rosa M. Kucharski). At the National Youth Music Competition, del Castillo was a finalist her first year and the winner her second year as a composer and performer. Following a Masters Class with Argentinian professor and pianist Aquiles Delle-Vigne, she won a scholarship to study "technique and piano performance" with him at the Mozarteum Musik Akademmie in Salzburg, Austria, for a year. She won the Composition Award at the International Music Exchange Piano Competition which included traveling to North Wales to perform original material at the International Music Festival.
For her first album, del Castillo convinced pianist Suzanne Ciani to produce the recoding in Ciani's personal studio in San Francisco. The solo piano album, Moods for Piano, featured all original material by del Castillo. Her second album, In Concert (Secretor del Corazon), was recorded live at Cafe Espana in Valladolid, and also contains original compositions. Del Castillo's production company is Inner Music. Her CDs are released on the Neuronium Records label, a division of the Oniria company.
"I love art, paintings, architecture, sculpture and photography. But more than this I adore reading books and I love to lose myself in libraries. I like to occasionally travel to see and experience new places and new people. I love animals, especially my dog. I enjoy cooking Spanish food, Mediterranean dishes and desserts. I like to go to hear concerts at small places like jazz clubs or piano bars. I go out with my friends to eat tapas and drink wine, or sometimes we simply get a coffee and talk," says del Castillo.
"I firmly believe in the power of love and trying to understand what others feel. I hate lies, ingratitude, dishonesty, falsehoods, injustice and suffering. We have to fight it the best we can. One way is to use music. If you choose to be a musician, you have the responsibility to study music as a complex and complete art, to prepare and work hard, and to make music the best you can for others to enjoy."