"I try not to limit myself to just one way of looking at things or doing something," explains musician Nathan Speir.
That philosophy has led to an eclectic and varied musical career with his recordings having been described as ambient chamber music, acoustic-ambient, piano-oriented new age, and avant-garde. His ninth album, Part of a Kindly Plan, continues his fascinating experimentation.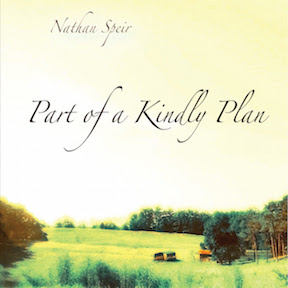 The new album mostly contains acoustic instruments -- acoustic piano, steel and nylon-string acoustic guitars, wooden flute, cello, harmonica, rain-stick and singing bowls -- but a couple of tunes also include a little synthesizer (primarily replicating a string-section). "In addition," states Speir, "silence has a big place in my music and I pay a lot of attention to the spaces between the notes."
Part of a Kindly Plan (on the Neptic Music label) and Nathan Speir's previous albums -- Between Earth & Sky, Nathan's Piano, Brighter Days, A Day of Poetry, Ambient Piano Christmas Volume 1, The Emotive Leaf, Ambient Piano Christmas Volume 2 (and the associated 3-song CD Warmth in Winter with additional instrumentation), and Improv 16 -- are available at his website (NathanSpeir.com) and as CDs and digital downloads at a variety of online sales sites including CDbaby, Amazon, iTunes, eMusic and many others.
Some of the inspiration for Part of a Kindly Plan came from a poem by Thomas Hardy, "On A Fine Morning," written in the early 1900s and printed on the back of Speir's CD. Speir explains, "At the beginning the poem asks a question: What is solace? Hardy says it is not this or exactly that, but at the end he is happy and content because he says everything is part of a benign or kindly plan that is proof that earth was made for man. I liked the sentiments expressed so I paraphrased various lines for the name of the album and several tune titles."
The first piece on the album, "Hued Embowment," could be described as "vibrant ambient." It features piano, cello and singing bowls. "I was feeling motion like tides going in and out, perhaps at sunrise." The composition "As We Turn" blends an acoustic-steel string guitar with piano, rainstick shaker, some sampled tympani and synth strings. "There are lots of turns in life, and as we grow older our perspective of life changes." On "Good Seasons" Speir primarily plays guitar (with a string section and a bit of cello) and says, "This was influenced by some of the early acoustic guitar bands I listened to such as Acoustic Alchemy and Wind Machine."
For "A Taste of Solace," Speir plays both piano and steel-string guitar to give the music some counterpoint. "We all need a time for stillness, quiet, healing, meditation and contemplation. It helps us physically, mentally and spiritually." He notes that "Open Ranges" was influenced by trips he has taken to the American Southwest, so he added harmonica to this piano piece. On the rapid, melodic, piano-cello "Passing Charcoal Clouds," Speir says he went for a neo-classical feeling ("This was inspired by Patrick O'Hearn and his versatility."). To capture the right atmosphere on "Serenity In This House," Speir started with piano and nylon-string guitar, and then added wind chimes, some noises from his home, and an oldtime squeaky round spinning piano stool.
The tune "Praxis" mixes nylon-string guitar and Native American wood flute with a rhythmic drum-sound created by Speir hitting the cello fretboard with his open hand. "The idea behind this piece is that everyone should chose a discipline of some sort, seriously practice it, persevere, improve, and also enjoy the journey." Regarding "Familiar Orbits" (piano, synth string drone, cello and singing bowls), Speir says, "The title refers to many things -- astronomical bodies going around a star, the molecular energy within us and around us, and the regular pathways we follow in life." The album ends with the very slow, nearly-nine-minute "Breathing On This Shore" (piano, strings and singing bowls) created by Speir at 62-beats per minute "like slow, regular breathing, perhaps during meditation on a beach."
Speir was born in Southern California, but his father worked in the aerospace industry (including the Kennedy Space Center), so the family moved around and Nathan also grew up in Florida and Connecticut. "My appreciation for music started at an early age because my grandfather built an extensive high-end stereo system with more than a hundred speakers and he had a collection of more than a thousand classical albums. For several years we had the system in our house and listening to music on it was an awesome experience." Nathan started playing piano at age eight and composing when he was twelve ("I remember one of my first songs was called 'Suspenseful Dream'."). "One of the things that influenced me the most as a child was seeing George Winston and Yanni perform on PBS television. In addition, my father turned me on to music by Cusco, Patrick O'Hearn and Tangerine Dream. I also took a course on MIDI music in high school."
Speir attended Palm Beach Atlantic University in Florida and earned his Bachelors degree in Music Theory and Composition. "I took a computer with me to college and it allowed me to create music on the spot. I could work out ideas wearing headphones. I also helped make recordings of recitals and learned about recording gear. Part of my music scholarship required me to be part of a concert choir, and the college choir traveled to Europe and we sang some sacred works in cathedrals around Krakow, Poland." In addition to music, Speir during his university days also was involved with visual art (drawing, illustrating and painting), and in recent years has designed most of his album covers.
After college, Speir, who now lives in North Carolina, began to actively record his own original music and release an impressive series of albums and singles that include recordings ranging from solo piano to all-synthesized as well as a combination of the two keyboard sounds sometimes supplemented with other instrumentation such as Native American flute, guitars and cello. He has sometimes recorded alternate arrangements of some of his compositions.
Speir draws musical inspiration from a wide variety of sources including modern classical, jazz, new age, minimalist composers and Sacred Byzantine music. "I got my Byzantine bug from my college choir director who turned me on to the modern religious-music composer John Tavener. In recent years I have produced three vocal albums by the group Byzantine Ark. I have spent a lot of time studying this type of music which precedes and has a different approach than Gregorian chants." Other musicians who have influenced his music include George Winston, Keith Jarrett, Pat Metheny, Steve Roach ("who reminded me to not forget about ambient"), Harold Budd, R. Carlos Nakai, Chopin and Erik Satie. Speir also gets inspiration from his family, poetry, fine art, space and astronomy, the study of religions, and nature.
"I have a perpetual need to create," explains Speir, "and making music teaches me many lessons in life. I hope that my creations enhance the ambience in the listener's life, and in doing so, the listener holistically benefits. This kind of music lends itself to solace, relaxing, thinking and reflecting on life. Studying your inner life and identifying your personal beliefs is serious business, but I believe that serious things can bring great joy. I want the music to feel like taking a pastoral retreat, or going to space and then returning to earth, but afterwards feeling more at one with things. I feel strongly that each person needs to contribute in some way to our world. With my music I try to do my small part."
---
Discount restaurant coupon codes
Dining coupons 60% off or more! Restaurant.com has a national directory of more than 18,000 restaurants. Search by state, city, neighborhood, zip code and cuisine type to find the perfect restaurant and gift certificates for savings in hundreds of cities across the US. Every week, Restaurant.com has a special dining promotional code for further discounts on each gift certificates. Save on Breakfast, Lunch and Dinner at Restaurant.com
Groupon coupons online
Groupon features a daily deal on the best stuff to do, see, eat, and buy in a variety of cities across the United States and has been recently featured on the Today Show, Good Morning America, and named the #1 Hottest Website for 2010 by Fox Business News! A deal a day great things to do, eat, see, & buy in your area. Shop Groupon.com today!