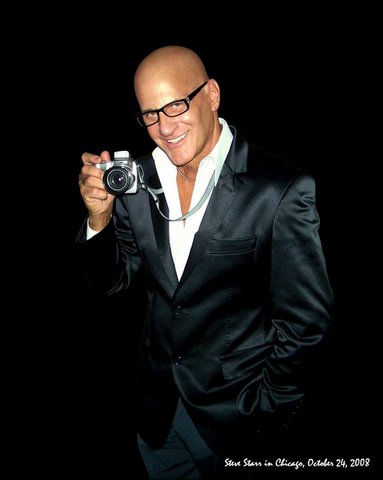 Steve Starr is the author of Picture Perfect-Art Deco Photo Frames 1926-1946, published by Rizzoli International Publications.
A photographer, designer writer and an artist, he is the owner of Steve Starr Studios, where the walls are adorned with his personal collection of over 950 original Art Deco photo frames filled with images of Hollywood's most elegant stars of the early 20th Century.
Steve Starr's photography, STARRLIGHT, appears in various publications including Entertainment Magazine- EMOL.org/reporters/Starr, Chicago Social-CS Magazine, Candace Jordan of CandidCandace.com, Red Carpet Concierge of Chicago, Journal Skyline, Windy City Times, No Strings Attached ENews, Michigan Avenue Magazine, En Chicago, Windy City Style, and the Chicago Art Deco Society Magazine.
Visit www.SteveStarrStudios.com where you can enter The Starrlight Room and view a portion of his frame collection, read Starrlight stories, and enjoy photos, letters, and autographs that he has received from his favorite luminaries.

Starr's celebrity photos include Janet Jackson, Fergie, Beyonce, Mario Lopez, Dionne Warwick, Freddy Rodriquez, John Leguizamo, Floyd Mayweather, Devin Hestor, Tommie Harris, Nadine Velazquez, Antoinne Walker, Carlos Zambrano, Jaslene Gonzales, Eduardo Verastegui, Jim Belushi, Fantasia, Johnny Hazard, Brad Rowe, Alfred Molina, Jay Hernandez, Ronny Cedeno, William Peterson, Mickey Rooney, Geraldo Rivera, Robert Davi, Ernest Borgnine, Daniel Sunjata, Vince Vaughan, Raquel Welch, Hugh Hefner, Jim McMahon, Chaz Palminterri, Jamie Foxx, Richard Dent, Anjie Dickinson, Jacqueline Bissett, Victor Skrebneski, Lynda Carter, Joan Allen, Christian Siriano, Rita Moreno, Esai Morales, Tony Curtis, Ty Pennington, Martin Landau, Carol Lynley, Evan Lysacek, Debra Messing, Terry O'Quinn, Ron Howard, John Travolta, and Princess Yasmin Aga Kahn.

Starr's newest book is STARRLIGHT-Glamorous Latin Movie Stars of Early Hollywood- Maria Montez~Rita Hayworth~Carmen Miranda~Lupe Velez and Dolores Del Rio. Published by First Flight Books, 2010. Full color, 84 pages, Hardbound in Silver Linen $30. Available through Steve Starr Studios, selected events and stores.
Phone 773-252-5171 for further information. Email [email protected]
His new book, STARRLIGHT- Glamorous Latin Movie Stars of Early Hollywood was published in 2008. More Steve Starr articles.
Photo of Steve Starr in Chicago, September 2, 2006, by Patrick Hipskind

Hollywood Men of the 20th Century
---

Series by Steve Starr. He was one of the most beloved actors of the golden years of Hollywood. Throughout his career Cooper appeared in over 100 films, and was rated one of the biggest box office draws 18 times between 1936-1957. Read more about Gary Cooper.