Entertainment Magazine: Celebrities: S T A R R L I G H T: Gary Cooper
Hollywood Men of the 20th Century: Gary Cooper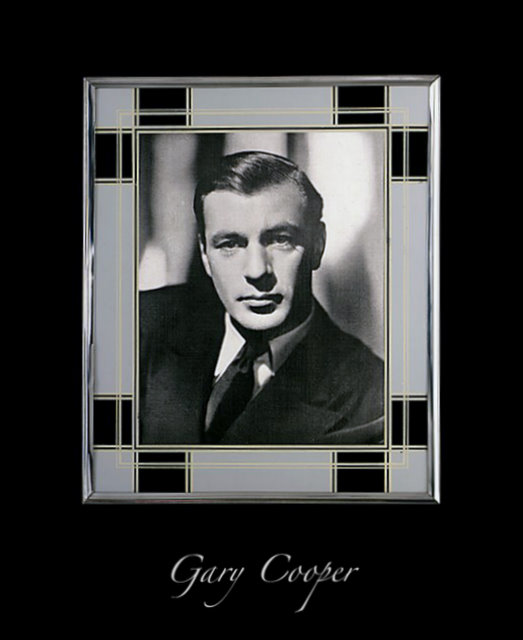 By Steve Starr
He was one of the most beloved actors of the golden years of Hollywood.
The wealthy cowboy was born Frank James Cooper, son of a Supreme Court Justice in Helena, Montana, May 7, 1901, and grew up on a 600 acre ranch.
He found his way to stardom after riding the California ranges in the silent westerns of the 1920s, startling the film colony with his natural charm.
Having affairs with famed "IT" star Clara Bow who he appeared with in Wings (1927), the first movie to win an Academy Award for Best Picture, and with violently jealous actress Lupe Velez who tried to shoot him on the Sunset Limited train heading to Chicago, added sensation to his early reputation.
In 1939, the U.S. Treasury named clotheshorse Gary Cooper as the highest paid wage earner in The United States.
Cooper, married to socialite Veronica "Rocky" Balfe, was equally at home in an elegant modern penthouse with his on and off screen lover Patricia Neal in The Fountainhead (1949), or on a cattle ranch. The six foot three, blue-eyed actor wore his wool suits and silk ties with the same ease he wore the trappings of a pacifist who became a war hero in Sergeant York (1941) for which he won his first Best Actor Oscar, and the rugged boots and spurs in his westerns, including the acclaimed 1952 High Noon, co-starring Grace Kelly, for which he won his second Oscar.
Throughout his career Cooper appeared in over 100 films, and was rated one of the biggest box office draws 18 times between 1936-1957. Gary Cooper received a third Academy Award, an honorary one, just prior to his death in 1961
Photo of Gary Cooper, 1938, in an original glass Art Deco frame featured in Steve Starr's book, Picture Perfect, Rizzoli International Publications (1991).
---
---
© 1977-2011 Entertainment Magazine.net (ISDN: 1087-8971) Copyright by Entertainment Magazine /BZB Publishing, Inc. EMOL.org