Emine SARI was born in a small city in Turkey. She started playing piano in her childhood because "I liked the piano voice. I developed myself by myself, I started to learn foreign languages for my desire to sing foreign songs...
"Having had a strong relationship with music since childhood, I believe that I can not live without songs. Also I am capable of singing and writing my own songs in six different languages, including Turkish, English, Japanese, Arabic, Russian..."
"One time because of my health problems I was forced to go to Japan. I heard about some music competition in there and fold "BEST of SINGER 2008" contest in Japan. I became to work 10 hours a day with my music and singing... and I degreed. The competition is the Japanese version of "American Idol". I was the only foreigner who performed in the finals in the Japanese city of Osaka. I sang in the traditional Japanese enka style."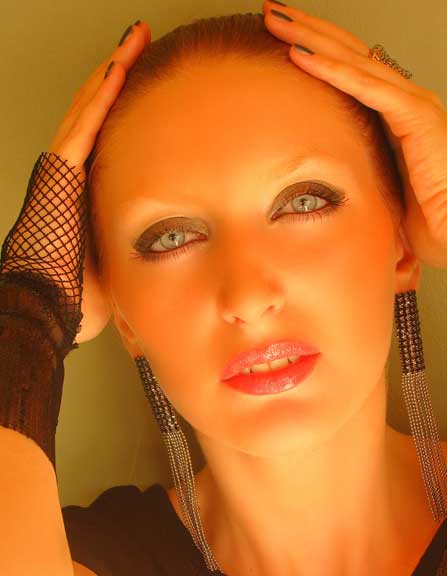 "After the competition I went to a concert tour in Japan with the famous Japanese band "MATSUMOTO BAND" and later I recorded my first CD "IN FIRE" and after returned to my own country."
Emine SARI was diagnosed with blood cancer (leukemia) 10 years before and given three months to live by doctors.
"I am now healthy and cancer free! I'm not saying that everybody has chance as I did, but I know something that I want to share with people and if my "story" can help one day only one person, this will make me the happyest woman in the world!" sais Ms. SARI.
"I am about to finish writing my new album which will be out soon. I am working on my new CD with great producers from UK and Turkey and we are planning to record at The Abbey Road Studios in UK. I am very ambitious and try to work very hard to get were I want to be."
Emine SARI was nominated in two categories in THE PEOPLES MUSIC AWARDS in UK with her own song as "The Best Female Solo Artist" and in the "POP" category in 2010.
Emine SARI is also an European Cultural Ambassador in Turkey.
Turkish singer Emine Sarı vying for 'Best Singer' title in Japan
The voice of a Turkish woman is breathing new life into Japanese songs thousands of miles from her homeland. Emine Sarı, a Hatay-born singer who left her native country to follow her passion for singing… TODAY'S ZAMAN
Emine Sari, a musical revolution inside Japan. The voice of a Turkish woman brought new life into Japanese songs thousands of miles from her homeland. Emine Sari, a Hatay-born singer who left her native country to follow her passion for singing, competed in the finals in a Japanese song contest to select the Best Singer of 2008…